Calling fans of everything interstellar!
Alex Wells, the latest author to join the ever-swelling pool of Robot authors, is here and they're bringing you a mash up of Dune and Sons of Anarchy in their debut novel, Hunger Makes the Wolf.
The book, set to grace us this March, covers everything from interstellar travel to Ghost Wolves to motorbikes. Think Dune crossed with Sons of Anarchy and you're about a quarter of the way there, we think.
And now, we can also thrill you with the fierce and powerful cover, created by Ignacio Lazcano! Here's a little teaser: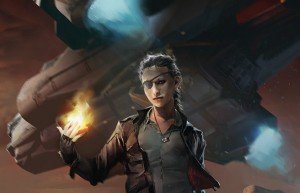 Brilliant, right? A woman making fire with her hands standing in front of an epic spaceship in outer space, wearing an eye patch. Intriguing…
You can see the complete cover over on Fantasy Faction but for now, take a look at the synopsis: 
The strange planet known as Tanegawa's World is owned by TransRifts Inc, the company with the absolute monopoly on interstellar travel. Hob landed there ten years ago, a penniless orphan left behind by a rift ship. She was taken in by Nick Ravani and quickly became a member of his mercenary biker troop, the Ghost Wolves.
Ten years later, she discovers that the body of Nick's brother out in the dunes. Worse, his daughter is missing, taken by shady beings called the Weathermen. But there are greater mysteries to be discovered – both about Hob and the strange planet she calls home.
Hunger Makes the Wolf will be available from March 2 2017 (US/Can) and March 7 2017 (UK/RoW).