Attention please!
While Peter McLean's new novel Damnation isn't set to explode until May next year, we can give you a small taste of it right now in the form of this amazing cover by the ever majestic Raid71.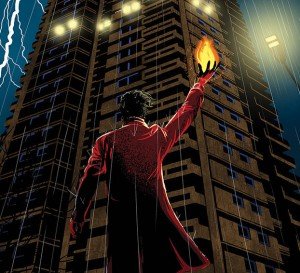 It looks pretty excellent, right? A touch of lightning, a hint of fire and, inexplicably, a giant block of flats. Hmmm. You can see the complete cover over at Black Gate, along with the two other covers from the Burned Man series.
For now though, take a look at the synopsis for Damnation:
Don Drake is living rough in a sink estate on the outskirts of Edinburgh, doing cheap spells for even cheaper customers while fending off the local lowlifes. Six months ago, Don fled from London to Glasgow to track down his old girlfriend Debbie the alchemist.
With the Burned Man gradually driving him mad, Don meets with an ancient and mysterious tramp-slash-magician, with disastrous consequences. Now his old accomplices must step in to save Don from himself, before he damns himself for good this time.
Damnation will be available from May 2 2017 (US/Can) and May 4 2017 (UK/RoW).