This weekend is a fantastic opportunity for you to get into the book that has just taken Japan by storm (after storming everywhere else first!):  Bookbub has Peter Tieryas' alt history/Pacific Rim smash up United States of Japan at a price that belies the vastness of the mecha on its cover!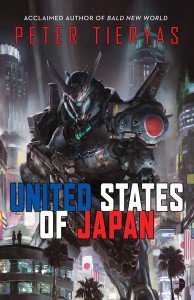 Seize it this weekend (4 November) only, from BookBub or direct from your digital dealer of choice. As usual you might be able to find it in the wild at these prices already!
In the US and Canada Windswept is just $1.99
In the UK Windswept is 99p
Don't miss out: "the novel deftly portrays the horrors of oppression but also, with its giant military robots, sumo wrestlers and body-transforming technology, is a gleeful love letter to Japanese pop culture" ( The Financial Times), it's "like China Mieville wrote A Man in the High Castle after seeing Pacific Rim." (Blackfish Reviews)
Check out the synopsis:
Decades ago, Japan won the Second World War. Americans worship their infallible Emperor, and nobody believes that Japan's conduct in the war was anything but exemplary. Nobody, that is, except the George Washingtons – a shadowy group of rebels fighting for freedom. Their latest subversive tactic is to distribute an illegal video game that asks players to imagine what the world might be like if the United States had won the war instead.
Captain Beniko Ishimura's job is to censor video games, and he's tasked with getting to the bottom of this disturbing new development. But Ishimura's hiding something… He's slowly been discovering that the case of the George Washingtons is more complicated than it seems, and the subversive videogame's origins are even more controversial and dangerous than the censors originally suspected.
Part detective story, part brutal alternate history, United States of Japan is a stunning science fiction novel in the tradition of Philip K Dick's The Man in the High Castle.