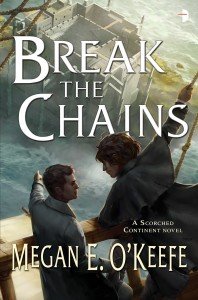 The best buddy-buddy fantasy series in town is back, and Megan O'Keefe will be signing copies this weekend!
Megan, author of the Scorched Continent series – Steal the Sky and new novel Break the Chains – will be appearing at Borderlands Books from 13:00 this Sunday, November 13.
If you're yet to become familiar with the antics of Detan, Tibs, Ripka and the rest of the gang, the Scorched Continent is a handy little package of fantasy and whodunnit  at its very best, featuring airships, gas that can be manipulated by a special few, and tricksy doppels – just perfect for a bit of escapism.
Copies of both Steal the Sky and Break the Chains will be on sale and Megan will be on-hand to sign your copies.
So pop down, have a chat with Megan and grab yourself a little treat; you deserve it.
Here's a handy map to help you find Borderlands, should you need it. We hope to see you there!