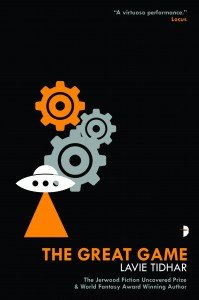 Hey there! Here's a free preview of Lavie Tidhar's magnificent Houdini fights the Martians novel The Great Game, re-released in October 2016 with a fancy new cover and Professor Tidhar's exploration of 'Dynamics of an Asteroid'! It's a startling work of steampunk historical science fiction.
As Locus said, it "achieves moments of surprising depth and beauty, with real insights into human history and psychology as well as the immense and varied wealth of writing in the last half of the 19th century. It's a virtuoso performance."
Here's the synopsis:
As a 19th century unlike our own comes to a close, Mycroft Holmes is found murdered outside his London club. It is up to retired shadow executive Smith to track down the killer – only to stumble on the greatest conspiracy of his life. Strange forces are stirring into life around the globe, and in the shadow game of spies nothing is certain.
Your read begins here:
The Great Game is available in all good bookstores and wherever books are sold from October 4th (USA/Can) / October 6th (UK/RoW).