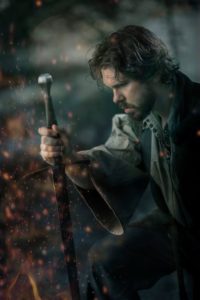 We've got new, fresh robot blood!
Joseph Brassey, in fact. Despite being an excellent author – you may recognise his name as one of the contributors to Neal Stephenson's The Mongoliad –  and all round great guy, Joseph is a martial arts and sword fighting master, so he'll be very useful come the Robot Uprising.
Here's the synopsis for his forthcoming novel Skyfarer, due for release in September 2017:
The hunt for a mythical, truth-refracting jewel sees our heroine race across the sky in this Star Wars-inspired space caper…

It is called the Axiom Diamond: a mythical relic with the power to show its bearer any truth they desire. Men have sought for it across many continents for centuries, but in vain. Aimee de Laurent, apprentice portalmage, is thrown into the race to find the gem when her first portal-casting goes awry, sending Aimee, her mentor, and the skyship Elysium into the war-torn midst of the invaded kingdom of Port Providence. Against them is pitted the might of the infamous magic-wielding knights of the Eternal Order, and their enigmatic commander, Lord Azrael, seeking the diamond, and destroying all in their path.
This is the first time our Mike is taking editorial lead on a novel and he's SUPER excited:
"I was a Final Fantasy kid. Countless hours poured into Final Fantasy III (aka Final Fantasy VI), and from the get-go, I loved the idea of magitech, blending science fiction and fantasy together. I'm also a big sword fan – from The Princess Bride to Star Wars, that love got me into historical martial arts. So when I opened Joseph's Skyfarer and saw that same blend of fantasy and science fiction flavors, I was hooked. It's got meta-drives and portal mages and instinctive magic and airships and dark knights and detailed duels and more. Skyfarer is exactly the kind of fast-paced adventure story that I absolutely love, and I can't wait to share it with you all."
Pop over to the B&N Sci-Fi & Fantasy Blog to see the full announcement plus blog from Joseph on his inspirations for what is an INCREDIBLY fun book.