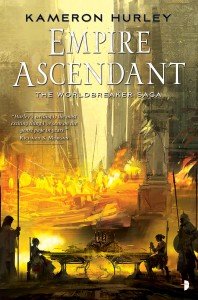 To whet your fantasy thirst, we've popped the first couple of chapters of Kameron Hurley's mind-blowing fantasy Empire Ascendant for you to enjoy for free.
We could talk about how great it is for ages, but Locus nailed it already: "it's epic in the truest sense of the world, and fantastic in a completely original and inventive way…I read all 400-odd pages in about 12 hours, ignoring all else. My guess is you will too."
Loyalties are tested when worlds collide… In this devastating sequel to The Mirror Empire, Kameron Hurley transports us back to a land of blood mages and sentient plants, dark magic, and warfare on a scale that spans worlds.
Empire Ascendant is sold in all good bookstores and wherever books are sold, and released in mass market paperback in USA/Can on November 1st.