Just for you, we've placed the first few chapters of Ferrett Steinmetz's Fix online so you can enjoy his sci-fi and fantasy megamix for free. The 'Mancer series has attracted some delightful praise, and this astounding final entry in the series has been no exception: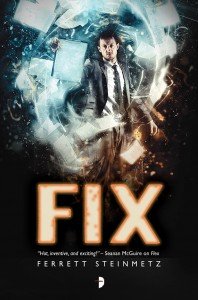 "I've said it before and I'll say it again: Ferrett Steinmetz's Flex series is one of the most imaginative and unique urban fantasies I've encountered. If you've read the other books in the series, then I don't need to recommend Fix to you–you're going to pick it up anyway." (Bookaneer)
Check out the synopsis:
"America's long sent its best SMASH agents overseas to deal with the European crisis. As of today, they decided dismantling your operation was more important than containing the Bastogne Broach. Now you're dealing with the real professionals."
When Paul Tsabo accidentally opens up the first unsealed dimensional broach on American soil, the Unimancers lead his family in a cat-and-mouse pursuit all the way to the demon-haunted ruins of Europe – where Aliyah Tsabo-Dawson is slowly corrupted by the siren call of the Unimancers…
READ IT NOW
Fix is available in all good bookstores and wherever books are sold.