Special Sunday reading for you (well, those of you who are yet to devour this splendid book) from "epic steampunk Firefly" Steal the Sky, the first instalment in Megan E O'Keefe's Scorched Continent series.
It's fresh, bright and brilliant. As the nice Joseph Heller at NPR said: "it's a buddy tale, a heist caper, a socioeconomic thriller and a steampunk-seasoned fantasia all at once. And it fires beautifully on all cylinders."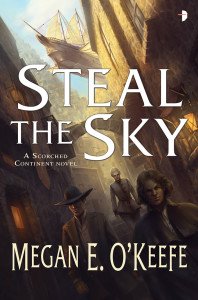 Detan Honding, a wanted conman of noble birth and ignoble tongue, has found himself in the oasis city of Aransa. He and his trusted companion Tibs may have pulled off one too many cons against the city's elite and need to make a quick escape. They set their sights on their biggest heist yet – the gorgeous airship of the exiled commodore Thratia.
But in the middle of his scheme, a face changer known as a doppel starts murdering key members of Aransa's government. The sudden paranoia makes Detan's plans of stealing Thratia's ship that much harder. And with this sudden power vacuum, Thratia can solidify her power and wreak havoc against the Empire. But the doppel isn't working for Thratia and has her own intentions. Did Detan accidentally walk into a revolution and a crusade? He has to be careful – there's a reason most people think he's dead. And if his dangerous secret gets revealed, he has a lot more to worry about than a stolen airship.
Break the Chains, the second in the Scorched Continent series was released just this month, so if you're intrigued by Steal the Sky and want more, more, more, you don't have to wait.
Steal the Sky is available in all good bookstores and wherever books are sold.