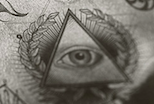 Roll up, roll up!
Let us thrill you with a fantastical, alchemical tale in the form of Dr Potter's Medicine Show, the forthcoming title from Eric Scott Fischl.
Here's the synopsis:
The year is 1878. Dr Alexander Potter, disgraced Civil War surgeon, now snake-oil salesman, travels the Pacific Northwest with a disheartened company of strongmen, fortune-tellers, and musical whores. Under their mysterious and murderous leader they entertain the masses while hawking the Chock-a-saw Sagwa Tonic, a vital elixir touted to cure all ills both physical and spiritual. For a few unfortunate customers, however, the Sagwa offers something much, much worse.
And now we have the rather spectacular cover – which was created by Steven Meyer-Rassow – to show off, which you can find exclusively revealed on the wonderful B&N Sci-Fi & Fantasy Blog. While you're there take a minute to read a blog post from Eric on Spectacular Tales, too.
Dr Potter's Medicine Show will be available from all reputable, and some less reputable, bookstores from February 2 (UK/RoW) / February 7 (US/Can).