Wanna take a little look at how Megan O'Keefe's Scorched Continent continues after the exciting events of Steal the Sky? Sure you do!
Check out the first three chapters of Break the Chains below… but be warned, this world is addictive: "I must confess that I tore through this instalment, and I'm really looking forward to the next one" (Sci-Fi and Fantasy Reviews).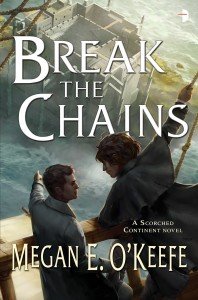 A year has passed since Detan set the skies above Aransa on fire, and the armies of Aransa's new dictator Thratia are preparing to knock on the door of his aunt's city, Hond Steading…
As the city that produces the most selium – that precious gas that elevates airships and powers strange magic – Hond Steading is a jewel worth stealing. To shore up the city's defenses, Detan promises his aunt that he'll recover Nouli, the infamous engineer who built the century gates that protect the imperial capital of Valathea. But Nouli is imprisoned on the Remnant Isles, an impervious island prison run by the empire, and it's Detan's fault.
Detan doesn't dare approach Nouli himself, so his companions volunteer to get themselves locked up to make contact with Nouli and convince him to help. Now Detan has to break them all out of prison, and he's going to need the help of a half-mad doppel to do it.
Break the Chains is sold in all good bookstores and wherever books are sold.