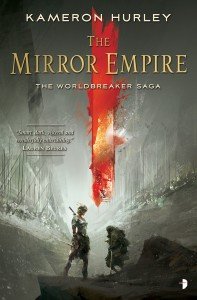 Excitement! Cheap ebooks! Epic, bloody fantasy!
If you're in the US or Canada today head on over to BookBub to pick up a copy of The Mirror Empire by Kameron Hurley for just $1.99.
The offer is also available to UK/R.o.W residents over at The Robot Trading Company for 99p.
For anyone yet to be familiar with The Mirror Empire and Kameron's mind-blowing epic fantasy series *stares* here's the synopsis:
From the award-winning author of God's War comes a stunning new series…
On the eve of a recurring catastrophic event known to extinguish nations and reshape continents, a troubled orphan evades death and slavery to uncover her own bloody past… while a world goes to war with itself.
In the frozen kingdom of Saiduan, invaders from another realm are decimating whole cities, leaving behind nothing but ash and ruin. As the dark star of the cataclysm rises, an illegitimate ruler is tasked with holding together a country fractured by civil war, a precocious young fighter is asked to betray his family and a half-Dhai general must choose between the eradication of her father's people or loyalty to her alien Empress.
Through tense alliances and devastating betrayal, the Dhai and their allies attempt to hold against a seemingly unstoppable force as enemy nations prepare for a coming together of worlds as old as the universe itself.
The deal is only available today, so make sure to pick up your copy of the novel, described byAdrian Tchaikovsky as "the most original fantasy I've read in a long time" now, now, now!