On Tuesday 27 Sept, as part of Liverpool's Biennial celebrations, Matthew De Abaitua will be appearing at the Bluecoat in Liverpool to chat about his novel If Then, Wirral-born Olaf Stapledon and Matthew's love for his home city.

Matthew will be doing a short reading and following will be having a natter with Liverpool Biennial artist Dennis McNulty.
If you're yet to read If Then, it's a wonderful literary sci-fi tale described by Nina Allan "as one of the most important works of British SF to appear in recent years".
Here's the synopsis: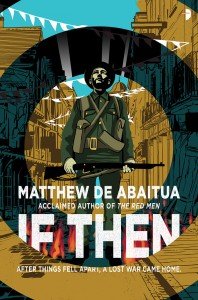 In the near future, after the collapse of society as we know it, one English town survives under the protection of the computer algorithms of the Process, which governs every aspect of their lives. The Process gives and it takes. It allocates jobs and resources, giving each person exactly what it has calculated they will need. But it also decides who stays under its protection, and who must be banished to the wilderness beyond. Human life has become totally algorithm-driven, and James, the town bailiff, is charged with making sure the Process's suggestions are implemented.
But now the Process is making soldiers. It is readying for war — the First World War. Mysteriously, the Process is slowly recreating events that took place over a hundred years ago, and is recruiting the town's men to fight in an artificial reconstruction of the Dardanelles campaign. James, too, must go fight. And he will discover that the Process has become vastly more sophisticated and terrifying than anyone had believed possible.
To find out a bit more about the event, visit the Bluecoat website, here. Tickets are £3/£2. The event will begin at 6PM GMT.
As always here's a lovely little map to help guide you to the venue: