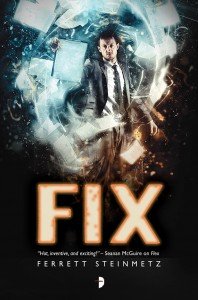 Today folks, our Ferrett Steinmetz will be commandeering the B&N Sci-Fi & Fantasy Blog's Twitter account to offer you – YES YOU – the chance to win a signed trilogy of his 'Mancer series.
As you may have gathered from Flex and The Flux, Ferrett just loves his pop culture references. In fact, in Fix there are a whole lot of chapter title references to movies, books and TV. We've picked five of those titles and we want you to tell us what the reference is.

From 10:30AM EST you will have a new chapter title to guess the reference. There will be five titles, over five hours, so that's FIVE chances to win!
To enter follow the B&N Sci-Fi & Fantasy Twitter account here and Ferrett's account, here for updates. You can also follow the hashtag #FlexFluxFix. Some of the references will be easy and some super hard but either way, good luck to you!
In the meantime, here's a picture of Ferrett's wife, Gina and Ferrett Himself (heh heh) in a Rocky suit, because it's the best picture we've seen in a while.