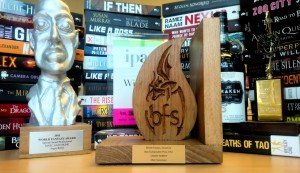 Sorry to report but the Robots are a little rust-tinged and creaky this morning, as we attempt to kickstart ailing battery packs back to life after a splendid weekend at the UK Fantasycon, organised by the British Fantasy Society. Held in the once-majestic shambolic splendour of the Grand Hotel in Scarborough, a combination of wonderful people, fine autumnal seaside weather and us winning the Best Independent Publisher 2016 award made for a brilliant time. Our faces are appropriately set in expressions of chrome delight.

The Robot crew – Penny, Nick, myself and Jared from the Watkins head office – were on hand to assist our many writers through a packed programme of panels, readings, heavy drinking sessions and even managed to get a couple of proper meals inside them. Huge thanks to Matthew de Abaitua, Matt Hill, Pete McLean, Susan Murray and Andy Remic, and also a cheeky wave to Guy Haley, Anne Lyle, Jen Williams, Gav Thorpe and Ian Whates. We're equally grateful to the organisers, including the redshirts led by Alex Davis and Pixie, who ran a memorable convention, and the many hundreds who came to the panels or collared us for a chat.
Friday and Saturday were delightful, but Sunday really topped the con off for us. First, the amazing Julie Dillon won the Best Fantasy Artist award – see her work on Foz Meadows' An Accident of Stars. And then, we were genuinely stunned to find we'd won the award for Best Independent Publisher 2016 at the traditional BFS Fantasycon awards. We were convinced that one of the other lovely outfits on the shortlist – Alchemy, Fox Spirit and Newcon – would surely take the prize. We'll try not to be too insufferable about it, but really our level of supreme smugness is only an indication of just how much it means to us. Totally made our weekend. Big metal hugs to everyone.