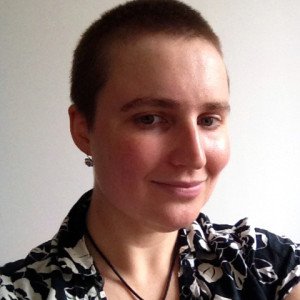 Welcome to Tuesday! It's time for Talk Tuesday To Us, when we mechanically extract nuggets of our authors' lives for your edification.
This week we bring you mind words of the awesome Foz Meadows, author of the outstanding  portal fantasy An Accident of Stars, described as "an epic adventure unlike any I've read before" by Andre Norton award winning and Nebula-nominated author Fran Wilde. If you're in the US, you lucky devils can read it right now –  An Accident of Stars is released in the US today, and in the UK on Thursday.

One film:
The Wolf Children.
One book:
The Goblin Emperor.
One story:
Dragon Age.
One song/record:
The Hamilton Broadway cast recording.
One creative person you always wanted to be:
Kate Elliott.
One book/author that's been unjustly neglected:
Ariah, by B.R. Sanders.
Ideal dinner party guests:
The Crystal Gems.
The biggest influence on your writing?
Kate Elliott, Katharine Kerr, Robin Hobb and Tamora Pierce.
Tell us a joke
Donald Trump.
What do you sing in the shower?
Hamilton, the Steven Universe theme song, Hozier, Halsey, quasi-embarrassing nineties indie rock.
Any notable pets?
I've had three cats, but none right now.
What do you say when people ask "Where do you get your ideas from?"
Answer with "the same place you get your questions".
Favourite building or structure?
The Big Merino, because Australia is ridiculous.
What keeps you awake at night?
A potent blend of insomnia and shipper feels.
The last time you cried?
This morning, watching Inside Out.
If you weren't a writer what would you be?
Dead.
Favourite fancy dress costume?
Princess Mononoke.
Got an irritating/bad habit?
Compulsively clipping my fingernails.
Favourite word?
I'd like to say something clever and intellectual, but on the basis of the evidence, it's probably 'fuck' and all its variations.
Who plays you in the movie?
Ryan Reynolds.
And what's the pivotal scene?
The shocking revelation that I'm really six cats in a trenchcoat.
We're buying… what'll you have?
Carbs and alcohol.
Favourite possession?
My mental health.
Last dream of note?
I lived in a house where it was always Halloween, with a Vortex of Perpetual Wednesday in the front yard, next to a mechanical, shapeshifting building occupied by a family indentured to Renault, who used them in their commercials (the mecha-house was so it didn't look like they were shooting each add in the same place). My subconscious is fucking wild.
Favourite item of clothing?
My Iron Bull/Krem Aclassi tank.
Would you write full time if you could?
In a heartbeat.
Do you plan in detail or set off hopefully?
A little of both, interspersed with screaming into the void and trying not to get distracted by fanfic.
Complete this sentence: Rewriting is…
The fucking devil.
Complete this sentence: Blogging is…
A compulsion.
Complete this sentence: I owe it all to…
People I met on the internet.
Would you rather fight one giant mecha or ten duck-sized cyborgs?
Duck-sized, but I'd prefer to make them my minions.
What's your karaoke song?
The last time I did karaoke, my publicist talked me into rapping Alphabet Aerobics. Happily, there is no footage of this. (I can confirm that it was AWESOME though – Penny)
If you could ban one thing from the Earth, what would it be?
Racist cops.
Tipple of choice?
Bourbon and coke.
What are you going to do right now when you've finished this ordeal?
AO3 and chill.
Thanks for your thoughts Foz! An Accident Of Stars is released on August 2nd (US/Can) and August 4th (UK).