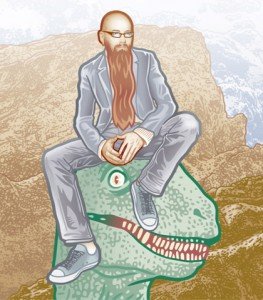 Good news – it's Tuesday again! That means it's time for us to implant electrodes in our authors' brains and make them Talk Tuesday To Us.
This week the delightful Brett Savory, author of the dark science fiction novel A Perfect Machine, takes the 'trodes and reveals his answers.
A Perfect Machine was described as "an inventive, disturbing, and unforgettable thrill ride" by Paul Tremblay, author of A Head Full of Ghosts and The Little Sleep. A Perfect Machine is released in February 2017.
One film:
Evil Dead 2 by Sam Raimi.

One book:
Hitchhiker's Guide to the Galaxy by Douglas Adams.
One story:
In the Hills, the Cities by Clive Barker.
One book to burn:
Fahrenheit 451 by Ray Bradbury. (ay-oh!)
One film to burn:
The Room by Tommy Wiseau, but only because I have no doubt that once burned, it would rise from the ashes more powerful than before! (I fucking love that movie.)
One song/record:
Roots by Sepultura.
One record to smash:
Can't pick just one. All new country albums—kill them with fire!
One creative person you always wanted to be:
David Lynch.
One book you wish you'd written:
Fugue State by Brian Evenson.
One book/author that's been unjustly neglected:
Tom Piccirilli. (He wasn't exactly neglected, but he never quite achieved the huge readership he absolutely deserved.)
Your hero:
David Lynch.
Ideal dinner party guests:
David Lynch, and whomever else he might want to bring 'cause you just know they'd be weird and awesome!
The biggest influence on your writing:
David Lynch.
The biggest influence on your life:
Uhhhhhhhhhhh, let's switch it up and say David Lynch.
One influence you wish didn't keep showing through:
Definitely not David Lynch. I wish more of his influence would come out. So, let's go with the idiots I watch on Bachelor in Paradise. (I just assume some of that shitshow is leaking outta me in various ways.)
Tell us a joke:
Horse walks into a bar, bartender says, "Why the long face?"
What do you sing in the shower?
I don't sing in the shower, but if I did, it would be probably Slayer, Harry Connick, Jr., or Sigur Ros—or all three in a ridiculously adorable mash-up!
Support a team?
If by "support," you mean "wear their hat," then yes. The Vancouver Canucks.
Any notable pets?
Gherkin! (cat)
Got a nickname?
Me or the cat? If the cat, yes: Fatty; Gherkin Lurkin; Gherk-a-Mah-Lurk; ChickenButt; PuddingFace; GoodBoyButt, et al.
If me, no. . . . Well, okay, I was called "Eggy" for a few years in high school 'cause a football (the North American egg-shaped ball, not a soccer ball) landed briefly on my head and spun there for a coupla seconds before falling off. Some dingus yelled "Eggy!" and that was that for several years.
Earliest memory?
I honestly have no idea; I have the worst memory ever. I do recall, however, what I had for lunch: a cheeseburger and a piece of delicious peach pie. Yummy!
First story you told?
Fright Night when I was 11 years old. I still have a copy. It's hilarious.
First story you sold?
For actual pro-type money? That's Some Pig! (co-written with David Niall Wilson in 1998).
Next book you'll read?
Stranded by Bracken MacLeod.
What do you say when people ask "Where do you get your ideas from?"
People don't ask me that 'cause they know I'll cut them.
Do you have an unusual talent or skill?
Though not entirely unusual, I suppose, I play drums for a stoner rock/heavy metal band called Ol' Time Moonshine. Our new album, The Apocalypse Trilogies: Spacewolf and Other Dark Tales, is out later this year! #shamelessplug
Best place you ever visited?
Saint Martin.
Favourite building or structure?
My house.
What keeps you awake at night?
Your mom.
The last time you cried?
Yesterday when I saw Star Trek: Beyond, and Zachary Quinto is looking at Spock's death notice. That shit was sad.
If you weren't a writer what would you be?
A publisher and a drummer. Oh, wait, I'm already those things… Um, a masked villain? Let's go with that.
Favourite fancy dress costume?
Ian Rogers in his Spider-Man onesie. (I can provide pics.)
Got an irritating/bad habit?
Drumming on things all the time. Not annoying to me, but apparently to the rest of the planet.
Favourite word?
Doink.
Who plays you in the movie?

Helen Mirren.
And what's the pivotal scene?
When Angry Robot bought my novel and CHANGED MY LIFE FOREVER!
We're buying… what'll you have?
As many oatmeal stouts as your charge card can handle, thanks.
Favourite possession?
The one in The Exorcist.
Last dream of note?
I dreamed Angry Robot offered me millions of dollars for my next novel.
Favourite item of clothing?
Ian Rogers in his Spider-Man onesie. (I can provide pics.)
What's the view from your writing window?
I like to write in the backyard whenever possible, so it'd be trees, plants, grass, fence, sky. When not outside, though, I write in my office, which looks down on my backyard, so trees, plants, grass, fence, sky.
Would you write full-time if you could?
Is that an offer!? 'Cause I just had a great dream about this!
Do you plan in detail or set off hopefully?
Some detail, but some seat-of-the-pants stuff, too.
Where would you like to be right now?
Right where I am.
When & where were you happiest?
Right now.
Complete this sentence: Rewriting is…
. . . when you rewrite something you've written.
Complete this sentence: Blogging is…
. . . when you post something you've written to a blog.
Complete this sentence: I owe it all to…
. . . Genghis Khan.
Tell us a secret…
When Donald Trump dies, like a vampire, all his familiars will die with him.
Where would you like to travel?
Pretty much everywhere I've never been. Too many to list entirely, but Spain, France, and Jamaica come immediately to mind. Also, THE MOON! If you can make that happen, that'd be great, thanks.
If you could share one recipe, what would it be?
This.
Would you rather fight one giant mecha or ten duck sized cyborgs?
Duck-sized, please! I have big feet, and could just kick those fuckers to the curb.
What's your karaoke song?
Slayer's Angel of Death.
If you could ban one thing from the earth, what would it be?
Religion. Barring that, those shitty-ass Star Wars prequels.
Tipple of choice?
Stout, stout, and stout. Also, stout. But if there's none of that, STILL STOUT, PLEASE.
What are you going to do right now when you've finished this ordeal?
Angry Robot novel revisions because (everything I do), I do it for you.
Thanks for enduring the electrodes Brett! A Perfect Machine is released on February 2nd (UK) and February 7th (Can).