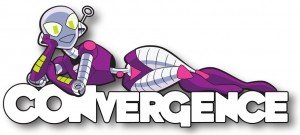 The Robots are out and about again, and this weekend we're making an appearance at CONvergence in Bloomington, MN.
Carrie Patel, author of The Buried Life and Cities & Thrones and Patrick Tomlinson author of The Ark and Trident's Forge are in attendance along with our lovely Mike.
Come along and find us in the Dealer's Hall, with a stall loaded up with amazing books. As well as selling our own titles we have some fine, fine novellas from Tor.com – a bonus if you like good books but don't have too much time to wander around. Always thinking of you, see?