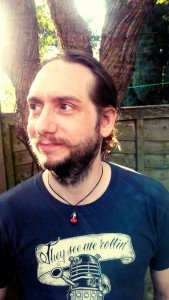 Hail Robots,
You may have seen rumblings that we were looking for a new editorial assistant to take over some of the day-to-day running of the orbital death platform – organising the puny meatbags for sacrifice, polishing our vast, gleaming control panel…you know, that kind of thing.
We set up a very cunning trap that involved a pulley system, cage, shiny things and some books and are delighted to announce that we managed to catch one. It's this man here! ——->
His name is Nick Tyler and he starts with us TODAY. Here is a little more about him:

Nick is now too old to grow up and divides his time between consuming improbable quantities of speculative and fantastic fiction, compering and performing improvised comedy and stories (with MissImp, the Nottingham Improv Comedy Theatre group), writing assorted nonsense, photographing his kitten, and enjoying whisky, beer, Lego, and film. He has a background in dystopian bureaucracy, IT and system implementation which he is keen to forget about.
We demanded Nick say nice things about his appointment, which he spewed forth thusly: "My Happy Worker chip has been installed and its endorphin pulses tell me that I'm thrilled to be joining the Angry Robot team."
You can chat to Nick over on Twitter, or drop him an email at nick.tyler@angryrobotbooks.com.
Welcome, Nick! We can't wait to sacrifice start working with you!