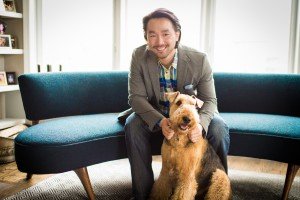 Guys! Exciting news, if you hadn't heard already! Wesley Chu is back with a whole new series. Now the new cover, designed by the marvellous Tommy Arnold, has been revealed over on the B&N Sci-Fi & Fantasy blog.
The Rise of Io is an exciting thrills and spills ride full of all the humour you've come to expect from Wes, and centres on a woman called Ella, who gets herself into some real trouble thanks to some pesky, snarky aliens. Here's the synopsis:

Ella Patel – thief, con-artist and smuggler – is in the wrong place at the wrong time. One night, on the border of a demilitarized zone run by the body-swapping alien invaders, she happens upon a man and woman being chased by a group of assailants. The man freezes, leaving the woman to fight off five attackers at once, before succumbing. As she dies, to both Ella and the man's surprise, the sparkling light that rises from the woman enters Ella, instead of the man. She soon realizes she's been inhabited by Io, a low-ranking Quasing who was involved in some of the worst decisions in history. Now Ella must now help the alien presence to complete her mission and investigate a rash of murders in the border states that maintain the frail peace.
With the Prophus assigned to help her seemingly wanting to stab her in the back, and the enemy Genjix hunting her, Ella must also deal with Io's annoying inferiority complex. To top it all off, Ella thinks the damn alien voice in her head is trying to get her killed. And if you can't trust the voices in your head, who can you trust?
But wait! Doesn't it sound a lot like The Lives of Tao series? Well! You'd be right. Kind of. The Rise of Io is a whole new series set but it's still set in the Quasing world. Fret not, if you've yet to read a Tao book *stares* this series is a standalone, so will appeal to both current and future fans of Wes' work.
Just click on the teaser image below to be taken to the full cover reveal, plus interview with Wes.