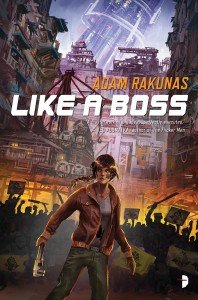 Our lovely Adam Rakunas, author of Philip K. Dick Award-nominated Windswept and its just released sequel Like A Boss, is holding a reading/signing at 9PM on Wednesday 29 June at Mysterious Galaxy, San Diego.
Joining Adam will be Nebula, World Fantasy and John W. Campbell Award-winning author Ted Chiang.

Here's more detail on the event:
io9 commented, "A linguist and a theoretical physicist are the stars of the latest movie from the director of Sicario and the upcoming Blade Runner 2. The movie is Story of Your Life, based on the short story by Ted Chiang, and this Amy Adams/Jeremy Renner movie looks awesome."
Ted will be joined by Adam Rakunas, whose Like a Boss returns readers to the world of Windswept, last year's Philip K. Dick nominated-title. Padma Mehta has realized her dream of owning a rum distillery, and believes she has retired from her labor organizer duties – until her nemesis is released from prison, and forms a cult. Thanks to the generosity of Adam's publisher, Angry Robot, readers will also be treated to tacos from Taco Surf and beer from a local distillery.
Yeah, you heard that right, we're sorting y'all out with tacos and beer. So that's beer + tacos + TWO great authors. What are you waiting for?!
For more information, pop on over to the Facebook event page.
And here's your handy map, just in case you need directions: