…it's not quite the way the musical number goes, but it works for the purpose of this post… more on that later.
First of all, hello my Angry Robot friends. It's been quite a while since my last blog post, during which I've changed approximately 1800 nappies; spent what felt like an eternity baby feeding; laughed more than I thought possible, and dried up more tears – both mine and hers; and generally adapted to family life with a tiny human ruling the roost. During all of this, I managed to follow my Angry Robot family regularly and have had some very proud moments (Ramez Naam shout-out!) as well as enjoying teasing the Danielle L Jensen fandom as I read the magnificent Warrior Witch as soon as it was humanly possible. I've welcomed our new authors, and been delighted to see existing authors thrive and sign new contracts. Angry Robot is a wonderful place to work, and certainly a family for all our authors and contacts alike.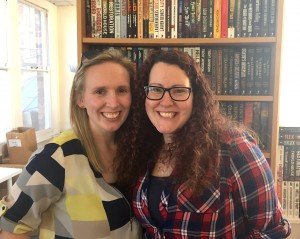 Which is why it makes it hard to announce I will not be returning from my maternity leave in June. There isn't much that could have stopped my return to work, but when my husband was approached by Lamborghini to join them – and thus move our little family to Italy – it proved too great an opportunity to refuse. After much talk with our Robot Overlord – and paternal figure – Marc, we agreed that I would move on with his robotic blessing and thus Penny [on the right], my maternity cover, would seamlessly continue as my full-time replacement. At this nerve-racking and exciting time, such support cannot be underestimated and I have to thank everyone at Angry Robot for their encouragement. Not only now, but throughout my time at Angry Robot. This particular job has challenged and rewarded me in equal measure, and I have been so grateful to have worked with amazing people from Marc and Lee, Amanda and Emlyn, Bryon and Phil, to Penny and our AR interns. We have certainly experienced the ups and downs of publishing together, and I will miss our team meets, random conversations, and Marc's playlists! I have many highlights from the last three years and memories to cherish, particularly those based around conventions (read: bars) and spending time with authors whom I am lucky enough to now call friends. I look forward to our continued friendships.
Saying goodbye sucks, so I'll say "bye for now" and do keep in touch: I'm on Twitter @caramalines and on Facebook with a quick clickety click here. Also, please join me in congratulating the lovely Penny and here's to the continued success of Angry Robot Books!