Howdy there, folks!
We just wanted to let you know that we have four – yep, count them – books on a US Nook promotion this month. All of these books will be available for just $2.99 until 25 May.
Links to the books on Nook are available beneath each title.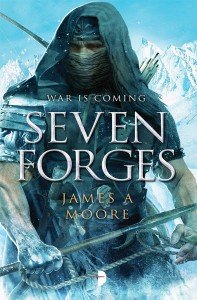 Seven Forges by James A Moore
Buy Seven Forges on Nook

The people of Fellein have lived with legends for many centuries. To their far north, the Blasted Lands, a legacy of an ancient time of cataclysm, are vast, desolate and impassable, but that doesn't stop the occasional expedition into their fringes in search of any trace of the ancients who once lived there… and oft-rumoured riches.
Captain Merros Dulver is the first in many lifetimes to find a path beyond the great mountains known as the Seven Forges and encounter, at last, the half‐forgotten race who live there. And it would appear that they were expecting him.
As he returns home, bringing an entourage of the strangers with him, he starts to wonder whether his discovery has been such a good thing. For the gods of this lost race are the gods of war, and their memories of that far-off cataclysm have not faded.
"Moore does some fresh, counterintuitive things with the genre conventions. More than once, he startled me into saying out loud, 'I didn't see that coming.'"
– Black Gate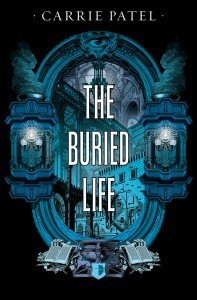 The Buried Life by Carrie Patel
Buy The Buried Life on Nook
The gaslight and shadows of the underground city of Recoletta hide secrets and lies. When Inspector Liesl Malone investigates the murder of a renowned historian, she finds herself stonewalled by the all-powerful Directorate of Preservation – Recoletta's top-secret historical research facility.
When a second high-profile murder threatens the very fabric of city society, Malone and her rookie partner Rafe Sundar must tread carefully, lest they fall victim to not only the criminals they seek, but the government which purports to protect them. Knowledge is power, and power must be preserved at all costs…
"The subtly fantastical story is resplendent with surprisingly deep villains, political corruption, and a gripping whodunit feel."
– Starred Review, Publishers Weekly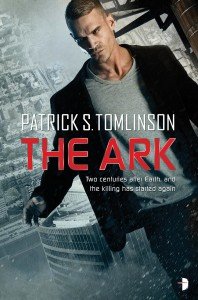 The Ark by Patrick S Tomlinson
Buy The Ark on Nook
Humankind has escaped a dying Earth and set out to find a new home among the stars aboard an immense generation spaceship, affectionately named the Ark. Bryan Benson is the Ark's greatest living sports hero, enjoying retirement working as a detective in Avalon, his home module. The hours are good, the work is easy, and the perks can't be beat.
But when a crew member goes missing, Benson is thrust into the centre of an ever-expanding web of deception, secrets, and violence that overturns everything he knows about living on the Ark and threatens everyone aboard. As the last remnants of humanity hurtle towards their salvation, Benson finds himself in a desperate race to unravel the conspiracy before a madman turns mankind's home into its tomb.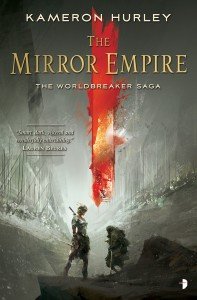 "The stakes are high is this thrilling debut."
– Kirkus Reviews
The Mirror Empire by Kameron Hurley
Buy The Mirror Empire on Nook
On the eve of a recurring catastrophic event known to extinguish nations and reshape continents, a troubled orphan evades death and slavery to uncover her own bloody past… while a world goes to war with itself.
In the frozen kingdom of Saiduan, invaders from another realm are decimating whole cities, leaving behind nothing but ash and ruin. As the dark star of the cataclysm rises, an illegitimate ruler is tasked with holding together a country fractured by civil war, a precocious young fighter is asked to betray his family and a half-Dhai general must choose between the eradication of her father's people or loyalty to her alien Empress.
Through tense alliances and devastating betrayal, the Dhai and their allies attempt to hold against a seemingly unstoppable force as enemy nations prepare for a coming together of worlds as old as the universe itself.
In the end, one world will rise – and many will perish.
STARRED REVIEW: "Hurley (Rapture) reuses old tropes to excellent effect, interweaving them with original elements to create a world that will fascinate and delight her established fans and appeal to newcomers. Readers will blaze through this opening instalment and eagerly await the promised sequel."
– Publishers Weekly