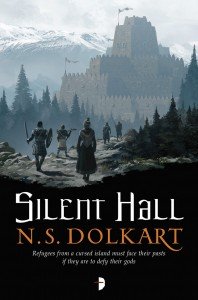 Silent Hall, the epic fantasy debut from N S Dolkcart is due to hit all good bookstores June 2 (UK/R.o.W) / June 7 (US/Can).
However, we're so excited about Silent Hall – described by James A Moore as a "near perfect novel" – that we wanted to share the first couple of chapters with you. Head over to Civilian Reader where you can see them in all of their glory.
Here's the Silent Hall synopsis:
Five bedraggled refugees and a sinister wizard awaken a dragon and defy the gods.
After their homeland is struck with a deadly plague, five refugees cross the continent searching for answers. Instead they find Psander, a wizard whose fortress is invisible to the gods, and who is willing to sacrifice anything – and anyone – to keep the knowledge of the wizards safe.
With Psander as their patron, the refugees cross the mountains, brave the territory of their sworn enemies, confront a hostile ocean and even traverse the world of the fairies in search of magic powerful enough to save themselves – and Psander's library – from the wrath of the gods.
All they need to do is to rescue an imprisoned dragon and unleash a primordial monster upon the world.
How hard could it be?
Reviewers, if you love the first two chapters of the novel then head over to NetGalley, where it's available to request until May 19.