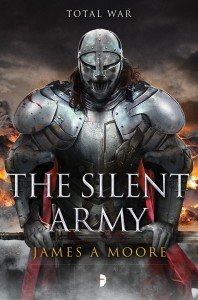 James A Moore, grade A material robot and author of the Seven Forges series (among many, many other novels) will be holding a signing tomorrow, May 7 at Jabberwocky bookstore in Newburyport, MA to celebrate the US release of The Silent Army, the fourth book in the series.
For those who have missed out on reading this epic fantasy so far, the night will provide a perfect introduction to Fellein Empire and the Sa'ba Taalor. Here's what some lovely people have had to say about the series:
"Truly this is turning into a series to be reckoned with."
– Lynn's Book Blog
"Moore has created a brilliantly realised world here; his characters continue to get better with each book. It's still exciting, it's still fresh, and brilliantly vivid. Fantasy does not get much better than this."
– Morpheus Tales
 "He does some fresh, counterintuitive things with the genre conventions. More than once, he startled me into saying out loud, 'I didn't see that coming.'"
– Black Gate
For more information visit the Jabberwocky events page.
And here's your handy map to get you to the event. We hope to see you there!