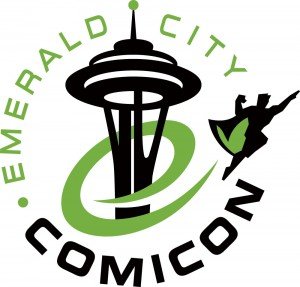 Emerald City Comicon (ECCC) is this weekend, and with it a swarm of robots will descend on Seattle.
Here are the panels that some of our authors are taking part in:
Friday, 16:00 – 17:00 room T301
Mutants of the Wasteland, Cyborgs of the Spaceways
The Science Fiction genre is known for tackling important social issues and examining the human condition, as well as things exploding or being on fire. The panellists take a look at the tropes and themes of modern SF and the intersection of flashy eye-candy and deeper meaning.
Panellists: Alex DeCampi (Smoke, Grindhouse), Adam Rakunas (Windswept), Margaret Trauth (Decrypting Rita), Douglas Wolk (Judge Dredd: Mega City 2) and Arthur Wyatt (2000AD)
Saturday, 19:00 – onwards room 2AB
Worldbuilders Party
If you want to hang out with all of the coolest authors at ECCC, then make sure to head over to the Worldbuilders Party, an event to help raise money for Heifer International. There will be games, swag, a silent auction and general merriment. We'll be there, will you?
Sunday, 13:15 – 14:15 room W603
The Science Behind Science Fiction
The stories of scifi may be fiction, but in many cases, the science is real… or at least realistic. Join the panellists as they discuss the research and reality behind their science fiction novels.
Panellists: Brenda Cooper (Edge of Dark), Peter Tieryas (United States of Japan), Sylvain Neuvel (Sleeping Giants), and Scott Sigler (Generations Trilogy) Moderated by New York Times bestselling author Jason Hough (Zero World).

Sunday, 15:45 – 16:45 room W603
Angry Robot Books Showcase
You'll be able to hear from authors such as Peter Tieryas, Patrick S. Tomlinson, Danielle L. Jensen, KC Alexander, Philip K. Dick Award-nominated Adam Rakunas and PKD Award winner Ramez Naam. Our very own sales and marketing guru Mike Underwood will be in attendance too, to give an overview of what's new and exciting for Angry Robot.
We'll also be around all weekend in booth 2910 and will have signings throughout the weekend, so if you want to chat to your favourite author and have them sign, well anything really, here are the timings:
Friday, 14:00
Adam Rakunas
Friday, 16:00
Patrick S Tomlison
Saturday, 11:00
Peter Tieryas
Saturday 14:00
Danielle L Jensen
Saturday, 16:00
Jay Posey
So if you're going to be at ECCC, make sure to catch up with us. See you there!