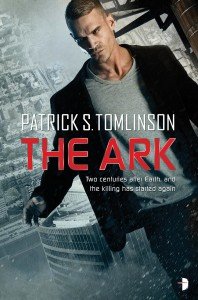 Patrick Tomlinson's The Ark is taking a trip…to Germany!
Our worldwide rights crack-team sold the novel to German publishers Droemer Knaur with a publication date of summer 2017.
Here are a few reasons why the critics are loving Patrick's 'murder mystery on a generation ship' debut:
"The stakes are high is this thrilling debut."
– Kirkus Reviews
"A murder on a spaceship is the ultimate locked-room mystery, and debut author Tomlinson has a lot of fun dragging his detective all over the ship as he investigates who killed Laraby."
– Library Journal
"The Ark is an extremely fast page turner, to both unspool the mystery, and immerse oneself in the main character and his plight."
– Skiffy & Fanty
"The Ark blends two of my favorite genres – science fiction and mystery. There are plenty of twists and turns that keep readings guessing. Mystery and sci-fi fans alike will enjoy this exciting novel."
– Sci-Fi Chick
Make sure to check out Trident's Forge, the second in Patrick's Children of a Dead Earth series, out April 5 (US/Can) / April 7 (UK/R.o.W).