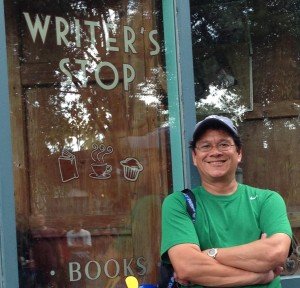 It's new author central at Angry Robot right now. Following on from our signings with Brett Savory and KC Alexander, we're now similarly delighted to announce the newest cyborg in the stable, Keith Yatsuhashi. If you want the full scoop on Keith, plus to read his article on finding inspiration in anime head over to the official announcement on the B&N Sci-Fi & Fantasy Blog.
Keith's debut novel, Kojiki will be hitting all good bookstores August 2 (US/Can) / August 4 (UK/R.o.W). Here's the synopsis:
In modern Tokyo, eighteen-year-old Keiko Yamada fights to unravel an unintelligible death poem her father left behind. Her only clues include a rambling note about powerful Japanese Spirits, gigantic, beast-like Guardians, and the cryptic words: Go to Japan in my place. Find the Gate. My camera will show you the way.
Determined to fulfil her father's dying wish, Keiko buries her grief, leaves America, and heads to Tokyo's Ginza in search of an answer. There, beneath the city's glittering neon signs, her father's death poem comes to life. Ancient spirits spring from the shadows. Chaos envelops the city, and as Keiko flees its burning streets, her guide, Yui Akiko, makes a stunning confession—that she, Yui, is one of a handful of Spirits left behind to defend the world.