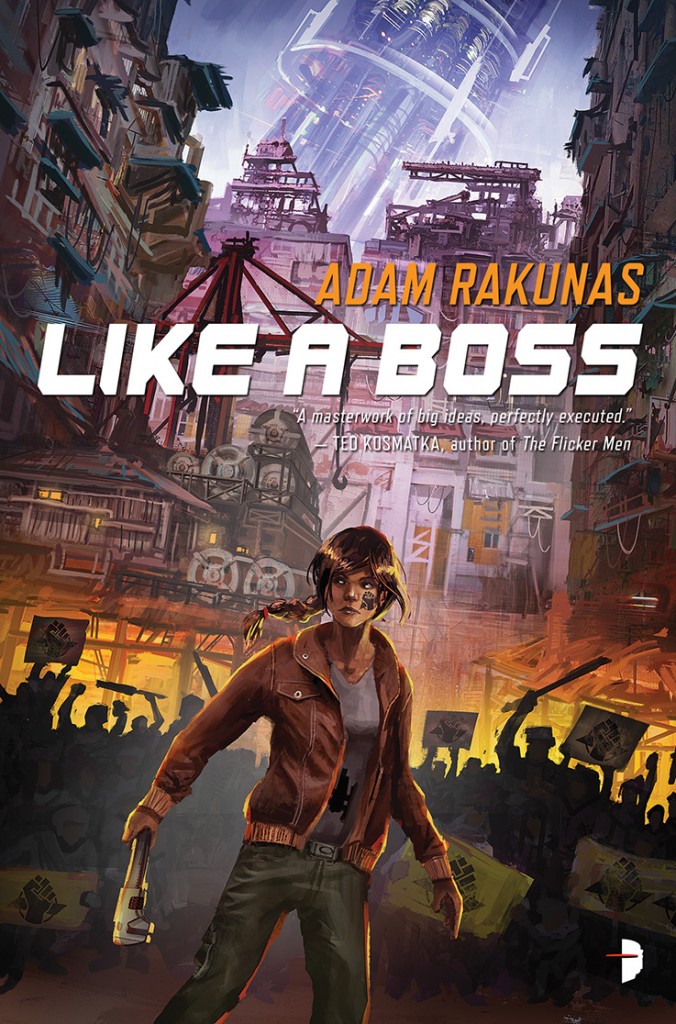 Hot on the tail of Adam Rakunas' Philip K Dick Award-nominated Windswept comes the second in his Occupied Space series, Like a Boss, hitting all good shelves  June 2 (UK/R.o.W) / June 7 (US/Can).
And now we can reveal to you the brilliant cover created by the very talented Jessica Smith. Feast your eyes on the image, above, which shows our protagonist, Padma, in the midst of some pretty violent labor relations.
Now, you might be wondering why Adam decided on the, frankly barmy, Like a Boss as the title for his novel…well, here he is with a few words to explain himself:
I still can't believe I'm getting away with this title.
It's probably not a good idea to use a song title or a meme for a book. Publishing moves slower than music, and it's glacial compared to the churn of the internet. By the time you've finished reading this, twenty-seven memes will have been born, spread across social media, and died, usually in the form of pictures of cats doing impossible things. Books take time, which means they can look dated before they hit the press, and looking dated just isn't done. Unless it is.
Story titles can be hard. They're the first advertisement for a book, the thing that's supposed to leap out at a reader (or a book buyer, or an editor, or an agent, or a writing group), grab that person by the throat and not let go. A good title is compelling, unique, and really, really hard to create.
I lucked out with Windswept. Even as the draft changed and mutated, the title stuck, and no one along the line questioned it. It evoked the setting and the mood and the tone, and it did it with one word! Think about the books you remember that have a single word as the title. Holes. Twilight. Hatchet. It. They don't tell the whole story, but they tell enough, sometimes with a single syllable, to get people to pick up the book and see what's going on inside.
With this book? Oy.
I went through three different working titles, and no one liked them. I didn't like them, but I liked Unnamed Windswept Sequel even less. I had to call the book something as I was working on it, just to get myself amped up for the fresh hell that Padma Mehta would find herself in. The title had to have action, it had to have meaning, it had to have oomph. Unnamed Windswept Sequel had none of those.
But neither did the next working title: Strike! Even though it was a single word (and had an exclamation point!), it didn't sing. It shouted. It's easy to shout. It's also easy to get drowned out when everyone else is shouting. I stuck with that one for a bit while I did what every other writer I admire did: looked through other people's work for ideas to rip off.
I got closer with my next title: Bread and Roses. That came from Rose Schneiderman's speech at the 1912 Lawrence Textile Strike. It was brief, it had poetry, and it tied in with strikes and with one of the things that Padma always fights for: a better life. A decent wage is a good start, but what about all the other things that make life worth living? What about education, art, culture? Those are worth fighting for. As a working title, though? Not so much. Sam Morgan, my agent, shot that one down.
That's when I just got ridiculous. I sent Sam a slew of working titles I was sure he would shoot down (Hot Labor Action, It's Hard Out There For A Sky Queen, and Labor In The Streets, Management In The Sheets, which doesn't make a lot of sense, but, what the hell, it sounded funny). And that's when it bubbled out of the back of my brain: LIKE A BOSS. I'd heard the phrase used for ridiculous clickbait articles, seen it in memes, even said it a few times myself in a sad attempt to remain culturally current with "the kids." I didn't know about the Slim Thug song or the Lonely Island parody. But I knew a good title when I saw one. So did Sam, who wrote back: OH. OH MY. I LOVE THAT. My cybernetic overlords at Angry Robot Books felt the same, because they put it on the cover.
It fits. Padma is confident and commanding, even when everything and everyone are falling apart around her. She's not the kind of person to cower and quail in the face of adversity. If anything, she'll spit in adversity's face and demand it pick up the tab. Like a hero. Like a leader. Like a boss.
And I still can't believe I'm getting away with it.