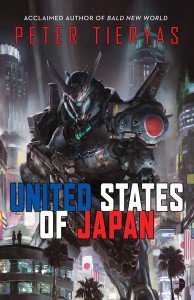 Peter Tieryas, author of the acclaimed United States of Japan, will be heading to Barnes & Noble Los Angeles tomorrow, Thursday 14 April at 19:00, for a signing.
For those of you yet to have the pleasure of reading United States of Japan, here's the synopsis:
Decades ago, Japan won the Second World War. Americans worship their infallible Emperor, and nobody believes that Japan's conduct in the war was anything but exemplary. Nobody, that is, except the George Washingtons – a shadowy group of rebels fighting for freedom. Their latest subversive tactic is to distribute an illegal video game that asks players to imagine what the world might be like if the United States had won the war instead.
Captain Beniko Ishimura's job is to censor video games, and he's tasked with getting to the bottom of this disturbing new development. But Ishimura's hiding something… He's slowly been discovering that the case of the George Washingtons is more complicated than it seems, and the subversive videogame's origins are even more controversial and dangerous than the censors originally suspected.
Part detective story, part brutal alternate history,United States of Japan is a stunning successor to Philip K Dick's The Man in the High Castle.
And here's what some lovely people had to say about the novel:
"A searing vision of the persistence of hope in the face of brutality, United States of Japan is utterly brilliant."
– Ken Liu, Hugo, Nebula, and World Fantasy winner and author of The Grace of Kings
"Acute observations in great dialogue and characters who are emotionally charged, and tied brilliantly and respectfully to discussions about war; it asks expected questions of its characters and readers but these are delivered in an engaging manner; United States of Japan is set in a world that's beautifully descriptive, oftentimes shocking and mixed in with outrageous sci-fi environments."
– Narelle Ho Sang, for SF Signal
"The United States of Japan is a surreal, weird, and brutal what-if aftermath of a brutal war. Prepare to be horrifyingly awed."
– Gem in the Rough
If you'd like more information, the event page, with complete address is here. Below is your handy at-a-glance map.
We hope to see you there!