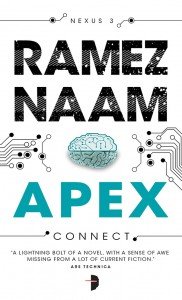 Hot on the tail of last week's Philip K Dick Award win, Ramez Naam's Apex has been announced as a finalist for the 36th Prometheus Award!
You might remember that Nexus, the first in Ramez's series, won the 2014 Prometheus Award, joint with Cory Doctorow's Homeland.
The five finalists for 2016 are Apex, Seveneves by Neal Stephenson, The Just City by Jo Walton, A Borrowed Man by Gene Wolfe and Golden Son by Pierce Brown.
About the award: 
The Prometheus Award, sponsored by the Libertarian Futurist Society (LFS), was established in 1979, making it one of the most enduring awards after the Nebula and Hugo awards, and one of the oldest fan-based awards currently in sf.
Presented annually since 1982 at the World Science Fiction Convention, the Prometheus Awards include a gold coin and plaque for the winners.
For more than three decades, the Prometheus Awards have recognised outstanding works of science fiction and fantasy that dramatise the perennial conflict between Liberty and Power, expose the abuses and excesses of coercive government, critique or satirise authoritarian ideas, or champion individual rights and freedoms as the mutually respectful foundation for civilisation, cooperation, peace, prosperity, progress and justice.
For a full list of past Prometheus Award winners in all categories, visit www.lfs.org.
We're wishing all of the finalists the best of luck.