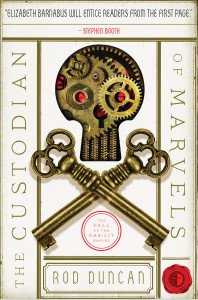 Rod Duncan's The Fall of the Gas-Lit Empire series might have come to an end (…or has it…) with The Custodian of Marvels, however those who fell in love with Elizabeth, the Patent Office and the alternate world that Rod created can discover the world of the Gas-Lit Empire in a unique way this weekend.
Starting at 14:00 in the Silver Arcade, Rod will be holding a free walking tour of Leicester, so fans can take in various areas of the city and hear how Rod integrated them into the alternate world of the Gas-Lit Empire. As Rod himself writes: "[Walkers] will follow the border between the Anglo-Scottish Republic and the Kingdom of England and Southern Wales, tracing it's peculiar alternate history along the way."
The tour will conclude at the De Montfort University bookshop, where you can grab copies of the book, which we're sure Rod will be delighted to sign, and help yourself to refreshments.
For all of the details and to express your interest in attending, visit the Facebook page here.
And here's your handy map to the starting point of the tour: