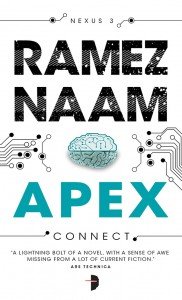 RAMEZ NAAM WON THE PHILIP K DICK AWARD FOR APEX!!
Our apologies for the shouty typing but given the above information, we're sure you'll forgive us.
Announced at Norwescon, which is being held in Seattle over the weekend, the Philip K Dick award is one of the most prestigious in science fiction. The award is presented to distinguished original science fiction paperback published for the first time during any given year in the USA.
Apex is that book and we could not be more delighted. The third in Ramez's Nexus trilogy, here's what the critics had to say about it:
"As with the first two volumes, Apex is a fat book that reads like a skinny one, racing through its well-turned plot to a conclusion that ties together every loose thread of every one of the trilogy's cast of thousands. From next-generation protest techniques to warfare in the age of autonomous weaponry to the nature of human rights in a world of transhumanism, Apex has ideas, eyeball kicks, and rollercoaster thrills to spare."
– Cory Doctorow, BoingBoing
"I think the Nexus trilogy will become a classic in much the same way the Dune series and other great science fiction series have before it. It's the kind of series you carry with you after you've read the last page and find you have to discuss with other readers because its implications are too profound to keep to yourself. Do I recommend it – if you're a sci-fi fan, or want an edge-of-your-seat smart-as-hell ride, definitely!"
– Popcorn Reads
To read what Ramez has to say about his win, check out his blog post.
Now, if you'll excuse us, we're off to pop some more champagne and celebrate this wonderful book!