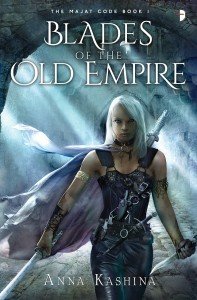 Assassin Queen, the third in Anna Kashina's The Majat Code series, is going to be released in June and so, to get you ready for the new release we thought we'd hold a re-read of the series so far over on GoodReads.
For those not yet familiar with Anna's incredible world of intrigue, romance and sorcery, here's what a couple of fans had to say on the previous two novels:
"Escape Rating A- Blades of the Old Empire is the start of a damn fine epic fantasy series… it was pretty damn awesome."
– Reading Reality
"I loved this one even more than the first, Blades of the Old Empire … Kara is the hinge-point for much of the drama. She's a strong female character … an absolutely awesome heroine. Not just because she's physically strong and capable, but because she has a tremendous amount of agency and is totally (and very humanly) conflicted about what to do with it."
– Marlene, The Book Pushers
Throughout April we will be re-reading Blades of the Old Empire, and then in May we'll be moving onto The Guild of Assassins. There will be chapter-by-chapter summaries, discussions, giveaways, exclusive stories and more, so make sure to join in here.
If you'd like to get ahead of the crowd you can enter to win Blades of the Old Empire at GoodReads here. Hurry, there's only a couple of days left to enter!