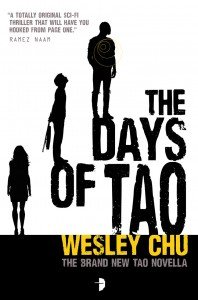 As a mark of his great success with his three Tao novels for Angry Robot, that man Wesley Chu has been invited to pen a novella with a new story from that world for the prestigious Subterranean Press. At the end of April they will be issuing The Days of Tao in the USA as an exclusive limited edition.
However, we didn't want UK and Australian fans to miss out, se we've arranged with Wes to offer the novella as an ebook through Angry Robot. For all readers in the UK and Commonwealth (Australia, New Zealand, South Africa and beyond), The Days of Tao will be available from 5th May in your favourite ebook store.
Here's more about The Days of Tao:
Cameron Tan wouldn't have even been in Greece if he hadn't gotten a 'D' in Art History. Instead of spending the summer after college completing his training as a Prophus operative, he's doing a study program in Greece, for once enjoying normal fun activities – spending time with friends and getting teased about his crush on a classmate.

Then the emergency notification comes in: a Prophus agent with vital information needs immediate extraction, and Cameron is the only agent on the ground, responsible for getting the other agent and data out of the country. The Prophus are relying on him to uncomplicate things. Except that when Tao is around, things have a tendency to get complicated very quickly indeed.