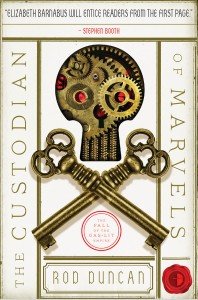 We're super excited for the launch of Rod Duncan's final book in The Fall of the Gas-Lit Empire series, The Custodian of Marvels on March 1, and now our fans from further afield can be too! Whilst tickets to the event are still available, those unable to join us in Leicester will now be able to watch the whole thing through a live webcast, which can be found here. 
The Custodian of Marvels *possibly* marks Rod's final voyage to the world of the Gas-Lit Empire, so do join us either in the Clephan building of DeMontfort University, or in your own room at 7pm GMT for a fantastic night of fun.
Here's a reminder of the synopsis:
You'd have to be mad to steal from the feared International Patent Office. But that's what Elizabeth Barnabus is about to try. A one-time enemy from the circus has persuaded her to attempt a heist that will be the ultimate conjuring trick.
Hidden in the vaults of the Patent Court in London lie secrets that could shake the very pillars of the Gas-Lit Empire. All that stands in Elizabeth's way are the agents of the Patent Office, a Duke's private army and the mysterious Custodian of Marvels.
Rod Duncan returns with the climactic volume ofThe Fall of the Gas-Lit Empire, the breathtaking alternate history series that began with the Philip K. Dick Award-nominated The Bullet-Catcher's Daughter.
You can find out more about the evening over on the Facebook event page. To claim your free ticket, please follow this link.