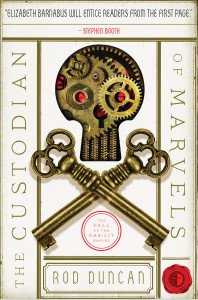 We love a good book, as you know, but we love a good book launch just a much. If you're a fan of Rod Duncan's The Fall of the Gas-Lit Empire series, then you really should visit De Montfort University, Leicester on March 1, for a gathering of fans, friends and….cake*?
The Custodian of Marvels is the final volume in the trilogy of books that started with The Bullet-Catcher's Daughter, though we detect from the glint in Rod's eye that this might not be the final adventure Elizabeth embarks upon.
Here's the synopsis:
You'd have to be mad to steal from the feared International Patent Office. But that's what Elizabeth Barnabus is about to try. A one-time enemy from the circus has persuaded her to attempt a heist that will be the ultimate conjuring trick.
Hidden in the vaults of the Patent Court in London lie secrets that could shake the very pillars of the Gas-Lit Empire. All that stands in Elizabeth's way are the agents of the Patent Office, a Duke's private army and the mysterious Custodian of Marvels.
Rod Duncan returns with the climactic volume ofThe Fall of the Gas-Lit Empire, the breathtaking alternate history series that began with the Philip K. Dick Award-nominated The Bullet-Catcher's Daughter.
You can find out more about the evening over on the Facebook event page. To claim your free ticket, please follow the link.
Here's a handy map to the Clephan Building, De Montfort University, which is where the event is being held:
If you're interested in the world of the Gas-Lit Empire, Rod is also doing a walking tour around Leicester on March 19 to show you various parts of the landscape as seen in the novels. Here's what Rod has in store:
A guided walk of the Gas-Lit Empire in Leicester, starting at the Silver Arcade and culminating with refreshments in the DMU Bookshop. We will follow the border between the Anglo-Scottish Republic and the Kingdom of England and Southern Wales, tracing it's peculiar alternate history along the way.
To find out more about the walking tour check out the Facebook page here.
*We can neither confirm nor deny the presence of cake.