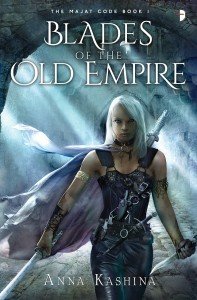 Exciting news, folks! We're delighted to announce that Anna Kashina will be releasing the third title in her The Majat Code series through Angry Robot this summer.
The new novel, Assassin Queen follows on from Blades of the Old Empire and double Prism Award-winning The Guild of Assassins. Here's the synopsis:
Defeated by the Majat forces, Nimos and the other Kaddim Brothers retreat to their secret fortress in the southern mountains. Nimos knows that the Majat's victory is only temporary: during the flight, he managed to place a mark on Kara, one of the top-ranked Diamond Majat. His mind magic would now allow him to use this mark to confer her fighting skill to the Kaddim warriors and turn her loyalties to their side.
The new Majat Guildmaster, Mai, is planning a march against the Kaddim. His key ally, Prince Kyth Dorn, is instrumental in these plans: Kyth's magic gift can protect the Majat against the Kaddim mind control powers. But Mai and Kyth are having trouble getting over their rivalry for Kara's affections–even after they realize that this rivalry is the least of their worries, at least for the moment. Something about Kara is not right…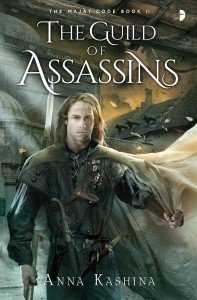 To find the Kaddim's secret fortress, the Majat must gain passage through the desert kingdom of Shayil Yara, a matriarchal society that despises men and the Majat ways. Fortunately, Kara is not only a top-ranked Majat, but also of the Olivian race, similar to the Shayil Yaran nobility. She seems ideally suited to lead the negotiation. But, with her Kaddim mark and seeming illness, can she be trusted?
Here's what consultant editor Phil has to say about the new title:
Fans of Anna's The Majat Code saga are going to be thrilled by this new instalment! Expect epic twists, intense romance and the best character work in the series so far.
Pop over to The Speculative Herald to read what Anna has to say about Romance in Speculative Fiction and for the chance to win a copies of the first to books in The Majat Code series.