You know, sometimes we get things wrong, and we're not too big and proud and metallic to say so.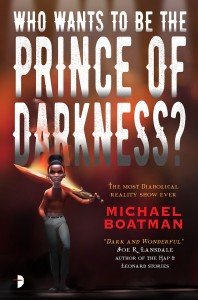 At the end of last week, we showed off the cover for Michael Boatman's dark, diabolic, deeply satirical novel Who Wants to be the Prince of Darkness?. Some peeps, bless them, went "Hooray, love it." Mostly, though, you folks, our lovely Robot pals, kind of looked at it with your heads tilted sideways and went "Umm, is that one a YA novel? Looks kinda young for something that's meant to be fun, but dark…"
Nobody really likes being told they kinda messed up, and sometimes one has to make certain that a bit of minor grumbling on the internet isn't just that, but this time we knew we'd not got it right. We realised that although we'd captured the demon-stuffed fun of Michael's novel, we'd gone too far down that line and packaged it like something Darren Shan would write. Luckily, we have an alternate version that on reflection suits the novel's tone more than that first design, and that's what we're going with. Here it is.
That's Abby D, by the way. Yes, she may look like your average African-American girl wielding a flaming sword longer than she is tall like she was born to it, but there's a little more to her that you should really discover for yourself.