Heads up, drones! The lovely folk over at Nook are running a 'first in series' promotion and are featuring eight Angry Robot titles! Please check below for titles and prices.
Each will be on sale from January 12 (today) until January 18.
Stolen Songbird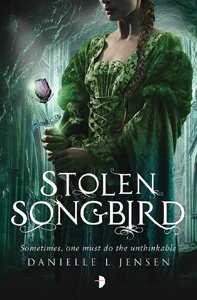 For five centuries, a witch's curse has bound the trolls to their city beneath the mountain. When Cécile de Troyes is kidnapped and taken beneath the mountain, she realises that the trolls are relying on her to break the curse.
Cécile has only one thing on her mind: escape. But the trolls are clever, fast, and inhumanly strong. She will have to bide her time…
But the more time she spends with the trolls, the more she understands their plight. There is a rebellion brewing. And she just might be the one the trolls were looking for…
"I devoured this novel. Loved the action/adventure, the political intrigue, the interpersonal dynamics, and I could hardly wait to share it with you."
– Popcorn Reads
Price: $2.99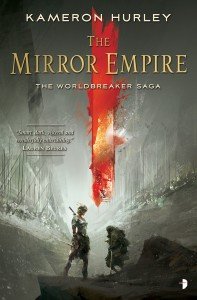 The Mirror Empire
On the eve of a recurring catastrophic event known to extinguish nations and reshape continents, a troubled orphan evades death and slavery to uncover her own bloody past… while a world goes to war with itself.
In the frozen kingdom of Saiduan, invaders from another realm are decimating whole cities, leaving behind nothing but ash and ruin. As the dark star of the cataclysm rises, an illegitimate ruler is tasked with holding together a country fractured by civil war, a precocious young fighter is asked to betray his family and a half-Dhai general must choose between the eradication of her father's people or loyalty to her alien Empress.
Through tense alliances and devastating betrayal, the Dhai and their allies attempt to hold against a seemingly unstoppable force as enemy nations prepare for a coming together of worlds as old as the universe itself.
STARRED REVIEW: "Hurley (Rapture) reuses old tropes to excellent effect, interweaving them with original elements to create a world that will fascinate and delight her established fans and appeal to newcomers."
– Publishers Weekly
Price: $1.99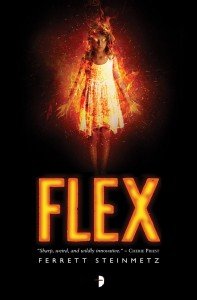 Flex
A desperate father will do anything to heal his daughter in a novel where Breaking Bad meets Jim Butcher's The Dresden Files.
FLEX: Distilled magic in crystal form. The most dangerous drug in the world. Snort it, and you can create incredible coincidences to live the life of your dreams.
FLUX: The backlash from snorting Flex. The universe hates magic and tries to rebalance the odds; maybe you survive the horrendous accidents the Flex inflicts, maybe you don't.
PAUL TSABO: The obsessed bureaucromancer who's turned paperwork into a magical Beast that can rewrite rental agreements, conjure rented cars from nowhere, track down anyone who's ever filled out a form.
But when all of his formulaic magic can't save his burned daughter, Paul must enter the dangerous world of Flex dealers to heal her. Except he's never done this before – and the punishment for brewing Flex is army conscription and a total brain-wipe.
"This one-of-a-kind series (which saw two installments released this year) is what might result if you put Breaking Bad and Reddit in a blender and hit "frappe.""
– Barnes & Noble Sci-Fi Blog
Price: $2.99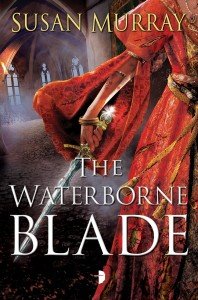 The Waterborne Blade 
The citadel has long been the stronghold of Highkell. All that is about to change because the traitor, Vasic, is marching on the capital. Against her better judgement, Queen Alwenna allows herself to be spirited away by one of the Crown's most trusted servants, safe from the clutches of the throne's would-be usurper.
Fleeing across country, she quickly comes to learn that her pampered existence has ill-equipped her for survival away from the comforts of the court. Alwenna must toughen up, and fast, if she is even to make it to a place of safety. But she has an even loftier aim – for after dreaming of her husband's impending death, Alwenna knows she must turn around and head back to Highkell to save the land she loves, and the husband who adores her, or die in the attempt.
But Vasic the traitor is waiting. And this was all just as he planned.
"This is a well-paced, enjoyable read with characters that feel rounded and real…the writing shines."
– Rian Drinkwater, SFX Magazine
Price: $2.99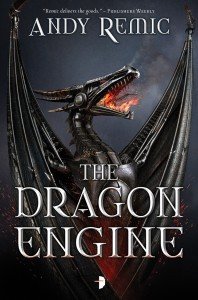 The Dragon Engine
Five noble war heroes of Vagandrak get drunk one night and sign a contract – to journey to the Karamakkos in search of the Five Havens. There, it is written, there lies untold, abandoned wealth and, more importantly, the three Dragon Heads, legendary jewels claimed to give unspeakable power and everlasting life to those who wield them.
But the Dragon Heads aren't what the adventurers think they are, and the world has not encountered their like in many, many generations!
"The story is wonderfully vibrant and detailed, even to the point that during some battle scenes I felt compelled to wince and look away."
– Two Nerds Talking
Price: $2.99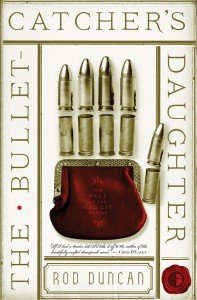 The Bullet-Catcher's Daughter
Elizabeth Barnabus lives a double life – as herself and as her brother, the private detective. She is trying to solve the mystery of a disappearing aristocrat and a hoard of arcane machines. In her way stand the rogues, freaks and self-proclaimed alchemists of a travelling circus.
But when she comes up against an agent of the all-powerful Patent Office, her life and the course of history will begin to change. And not necessarily for the better…
"Rod Duncan's talent has combined inventive plot and characterisation to create a smart, amusing and fascinating tale that had me reading long into the night."
– Fantasy Faction
Price: $1.99
Blades of the Old Empire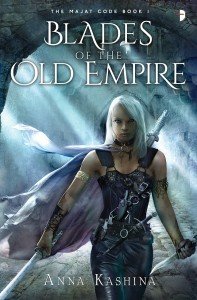 When Prince Kythar falls under attack in his own castle, he has no idea that his enemies are none other than the ancient Kaddim Brotherhood plotting to destroy his royal line. His inborn ability to control the elements is the only power that can stop this plot, but there is one problem. Kyth's fighting skills are no match for the Kaddim, leaving him no time to put his magic to work.
To defeat the Kaddim, Kyth must rely on his bodyguard Kara, a beautiful Diamond-ranked assassin from the elite Majat Guild. But his enemies develop an elaborate plan to remove her from their way. Acting through treachery and scheming, they pitch Kara against the Majat, marking her as a target for the only warrior who can defeat her in battle. With the deadly assassin on their trail, Kythar and Kara must face impossible odds to save the kingdom and their lives.
"Escape Rating A- Blades of the Old Empire is the start of a damn fine epic fantasy series…it was pretty damn awesome."
– Reading Reality
The world has collapsed, and there are no heroes any more.
But when a lone gunman reluctantly accepts the mantle of protector to a young boy and his dying mother against the forces that pursue them, a hero may yet arise.
"Three feels like the result of tossing Mad Max, Neuromancer and Metal Gear Solid into a blender. If you don't find that combination appealing, then I do not understand you as a human being."
– Anthony Burch, writer for Borderlands 2 and Hey Ash Whatcha Playin
Price: $2.99