Now we've all had time to settle into 2016 we've taken some time compiling the 'most-anticipated of 2016' lists currently doing the rounds and containing praise of forthcoming Angry Robot titles. We think we've found most of them, but if you do spot any others, give us a shout and we'll add them in.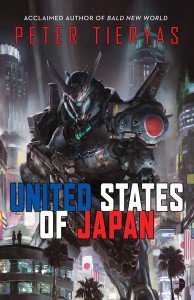 There has been a whole slew of 'most-anticipated' lists featuring Peter Tieryas' United States of Japan, which will be released March 1 (US/Can) / March 3 (UK/RoW). Firstly, the Barnes & Noble Sci-Fi & Fantasy Blog, who had this to say:
"Tieryas imagines a mech-patrolled future United States controlled by the Empire of Japan, victorious in World War II, in this "spiritual sequel" to Philip K. Dick's Man in the High Castle. And while we could claim we're here for the highbrow literary allusions (Dick is considered literature now, right?), we're really in the tank for the giant robots." 
Well, United States of Japan definitely does have robots, but it also features rebel fighters, subversive videogames and an examination of an alternate reality, which is probably why United States of Japan crops up in Alternative History Weekly Update's most anticipated books of 2016, too. SF Signal's Kristin Centorcelli mentioned USoJ in her On My Radar piece.
Publishers Weekly featured United States of Japan in its Top Ten SF, Fantasy and Horror for 2016. You'll need a membership to view the link, so we've posted the mention below:
"Tieryas follows Bald New World with another close examination of culture and unspoken assumptions. In this alternate history, the Axis won WWII and now, in the late 1980s, the Japanese Empire rules over the western U.S. But a game censor and an imperial government agent discover truths about the empire that make them question their loyalty."
United States of Japan was mentioned in a cross-media sci-fi list by Popular Mechanics, which also includes TV shows, games and films. Here's what they had to say about USJ:
 "The third novel from Peter Tieryas (aka Peter Tieryas Liu) bills itself as a "spiritual sequel" toThe Man in the High Castle, the Philip K. Dick book recently adapted into an Amazon miniseries. The United States of Japan takes place in alternate history America in which the Axis powers won, and is set sometime in the 1980s. But it's more the cyberpunk dystopia William Gibson promised us than the actual 1980s we know, with giant mechs enforcing the law and police trying to squash an underground gaming success that lets players imagine what might've happened if the allied powers won World War II. It sounds like a perfect patchwork of multiple sci-fi and anime subgenres rolled into one novel."
Finally, here's Thomas M Wagner from SFF180/SFReviewsnet chatting about his most 16 anticipated books for 2016, which mentions, you guessed it, United States of Japan:
Out in February, Matt Hill's Graft has been featured in NetGalley's Best of February list. Here's what they had to say:
"This slice of Mancunian neo-noir is both tense and thought-provoking, casting a light not only on what is to come, but what is actually already here." SF Signal also posted a piece here, declaring themselves 'really looking forward' to some neo-noir from Mr Hill.
Danielle L Jensen's Warrior Witch is featured in Star-Crossed Book Blog's Most Anticipated of 2016. Here's what Jen over at the site has to say:
"Warrior Witch is the final book in this beautifully intoxicating trilogy!  A heroine I love is paired with a sexy, infuriating, haughty and sarcastic troll (I ♥ Tristan!) in hopes that a prophecy will be fulfilled and the trolls will be set free from under their mountain.  The peril was through the roof intense and I can't wait to see how their story ends."
We've seen into the future Jen, and we can't wait to hear your thoughts on how the trilogy ends! It's going to be one heck of a ride, that's for sure!
Wesley Chu's Time Siege gets a mention in this video, by Che Alexander – thanks, Che!
Twilight of the Dragons, the second in Andy Remic's The Blood Dragon Empire series is one of Beauty in Ruins' most-anticipated novels.
Thank to so much to everyone that featured Angry Robot authors in their 2016 lists. We'll make sure to keep bringing you some of the best SF/F/WTF books this year and far beyond. To the future!