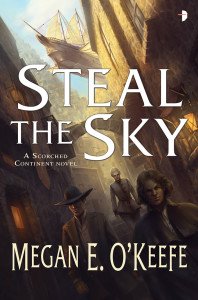 Now that Megan E O'Keefe's Steal the Sky is out in all good bookshops, Megan has decided to take a trip around some of her favourite bookstores to promote what Beth Cato has described as "like an epic steampunk Firefly".
Below are the dates and times of Megan's appearances, we hope you can make it along to one!
If you're yet to familiarise yourself with Megan's debut novel, here's the synopsis:
Detan Honding, a wanted conman of noble birth and ignoble tongue, has found himself in the oasis city of Aransa. He and his trusted companion Tibs may have pulled off one too many cons against the city's elite and need to make a quick escape. They set their sights on their biggest heist yet – the gorgeous airship of the exiled commodore Thratia.
But in the middle of his scheme, a face changer known as a doppel starts murdering key members of Aransa's government. The sudden paranoia makes Detan's plans of stealing Thratia's ship that much harder. And with this sudden power vacuum, Thratia can solidify her power and wreak havoc against the Empire. But the doppel isn't working for Thratia and has her own intentions. Did Detan accidentally walk into a revolution and a crusade? He has to be careful – there's a reason most people think he's dead. And if his dangerous secret gets revealed, he has a lot more to worry about than a stolen airship.
Steal the Sky will be available at each location, so if you haven't done already make sure to pick up a copy.
First up, Megan will be at Borderlands Books tomorrow, January 8th, at 3pm PST for a meet, greet and book signing.
Check out the event info here.
Below is a handy little Google map to help you find Borderlands:
Next weekend, Saturday January 16th Megan will be heading to Barnes & Noble Anitoch for a book signing.
For more information, please visit the B&N events page, here.
And here's your helpful map:

ConFusion kicks off the start of 2016's conventions this year, over in Novi, MI and Megan will be there with bells on (no promises on the bells). Check out the website link for more information on special guests, events and programming.
The fine folk at Avid Reader Books in Davis, CA will be hosting Megan from 7.30pm PST on January 29th for a reading. Megan has vowed to stay until they kick her out, so make sure to pop down with snacks and plenty of books for signing.
Check out the Facebook event page for more details.
Here's the location:
From there it's on to The Book Shop in Hayward, CA for an event from 1-3pm PST.
Here's your handy map:
Finally, on Saturday March 19th, Megan will be at Copperfield's Books in Petaluma. Make sure to pop along from 1pm PST for a meet 'n' greet.
Of course, we prepared you a little map for this event too:
If you don't get a chance to see Megan while she's on her book tour, fret not. Just have a look below for a selection of interviews and blog posts she's been doing recently. For the latest on Megan's publicity tour, make sure to follow her over at Twitter.
Guest post on Alex Shvartsman's Speculative Fiction (Jan 16) 
Guest post on Eating Authors (Jan 16)
Interview with SF Signal (Dec 15)
Guest post at MyLifeMyBooksMyEscape (Dec 15)
Interview with Debra Jess (Dec 16)