The B&N Sci-Fi & Fantasy blog's #RobotChristmas might be over now, however you can still catch a couple of great Nook Deals on selected Angry Robot titles. We just love to treat you guys!
Each of the below are now on offer over at Nook Books for $2.99 each: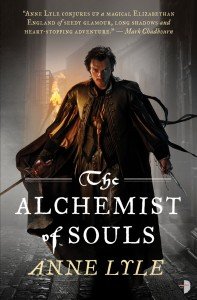 The Alchemist of Souls
When Tudor explorers returned from the New World, they brought back a name out of half-forgotten Viking legend: skraylings. Red-sailed ships followed in the explorers' wake, bringing Native American goods – and a skrayling ambassador – to London. But what do these seemingly magical beings really want in Elizabeth I's capital?
Mal Catlyn, a down-at-heel swordsman, is seconded to the ambassador's bodyguard, but assassination attempts are the least of his problems. What he learns about the skraylings and their unholy powers could cost England her new ally – and Mal Catlyn his soul.
"With an effective mix of espionage, backstage drama, and mystery, Lyle provides compelling drama in an intriguing setting."
– Publishers Weekly
"…gives Shakespeare's London an alternate-history twist … A lively, readable debut."
– David Langford, Telegraph.co.uk
"A gem of a first novel…I felt as if I walked those smelly Tudor streets as strongly as I've felt it reading writers like Mantel or Peter Ackroyd…Anne Lyle has given us the Elizabethan London we know from reading history and Shakespeare; but she's also created a London that has just enough strangeness in its shadows to keep us anticipating wonder."
– Richard Kellum, Elf Machines From Hyperspace
The
Bookman
When his beloved is killed in a terrorist atrocity committed by the sinister Bookman, young poet Orphan becomes enmeshed in a web of secrets and lies. His quest to uncover the truth takes him from the hidden catacombs of a London on the brink of revolution, through pirate-infested seas, to the mysterious island that may hold the secret to the origin, not only of the shadowy Bookman, but of Orphan himself…
"The Bookman is a delight, crammed with gorgeous period detail, seat-of-the-pants adventure and fabulous set-pieces."
– The Guardian
"The writing is beautiful and flows so well you'll be farther along the journey than you realize when you finally come up for air.  Tidhar had me engaged throughout the book; from the set up during the first part, where he introduces us to his alternate Britain and its inhabitants, to the rollicking excitement of Orphan as he seeks out the Bookman and finally, to the climax where answers to mysteries are revealed and the whole grand design is wrapped up in a big, bodacious bow."
– Benito Corral Reviews
"…an intelligent, clever book, that creates a wonderfully complex secondary world … as well-constructed as a Swiss cuckoo clock and as readable as any genre fiction being written today."
– Red Rook Review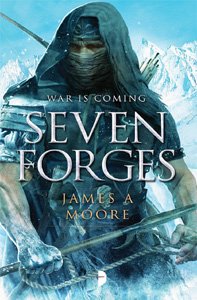 The people of Fellein have lived with legends for many centuries. To their far north, the Blasted Lands, a legacy of an ancient time of cataclysm, are vast, desolate and impassable, but that doesn't stop the occasional expedition into their fringes in search of any trace of the ancients who once lived there… and oft-rumoured riches.
Captain Merros Dulver is the first in many lifetimes to find a path beyond the great mountains known as the Seven Forges and encounter, at last, the half‐forgotten race who live there. And it would appear that they were expecting him.
As he returns home, bringing an entourage of the strangers with him, he starts to wonder whether his discovery has been such a good thing. For the gods of this lost race are the gods of war, and their memories of that far-off cataclysm have not faded.
"James A. Moore dedicates Seven Forges in part 'to the memory of Fritz Leiber and Robert E. Howard for the inspiration.' That dedication sets the bar high, and caused me a bit of readerly apprehension, because so many writers have imitated badly those two greats of the sword and sorcery tradition. Moore is far more than an imitator, though. He does some fresh, counterintuitive things with the genre conventions. More than once, he startled me into saying out loud, 'I didn't see that coming.'"
– Black Gate
"Seven Forges is an excellent, enjoyable, and thoroughly entertaining fantasy debut into a new world of swords and sorcery, complete with romance, intrigue, and danger."
– Attack of the Books
"Wow, that twist. In some ways I think I should have seen it coming, and I kind of did, butSeven Forges just lulled me into security and BAM! Craziness!"
– Anya, On Starships and Dragonwings