December is a time for joy, giving and Best Of lists. This year, our favourite list so far has been Buzzfeed Books' The 24 Best Science Fiction Books of 2015. And we're definitely not being biased, even if two of our titles are featured on the list!
That's right, two!
Firstly, Buzzfeed gave praise to Wesley Chu's The Rebirths of Tao: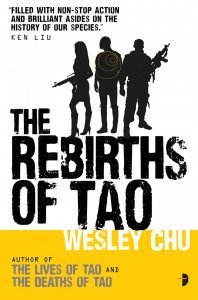 "The Rebirths of Tao ends the Tao trilogy with a bang, raising the stakes until the fate of the world—and an alien people—hang in the balance. With humor, fun, and serious storytelling chops, Chu brings the stories of his characters to a satisfying and deeply moving conclusion. Once you finish, you'll want to read the whole Tao trilogy all over again."
And you should, it's a very good trilogy indeed. It'll also set you up nicely for Rise of Io, Wesley's new series, set in the same world as Tao and due for release in summer 2016.
Here's some love for The Rebirths of Tao from other reviewers:
"The Rebirths of Tao is a suitably epic trilogy-capper in both scope and scale. This time, the battlefield is the whole world, with Roen once again at the center of things. If the first book is an action-adventure and the second a political thriller, the conclusion is something approaching dystopian guerrilla warfare. It still has that snarky sense of humor and the same frenetic action, but the focus has changed. In fact, it's a book that explores change more than anything else."
– Barnes & Noble
"This third book was everything I'd hoped for, a wonderful end to a trilogy that has been a wildly entertaining ride from the get go. It's funny, action-filled, and manages to tie up all the loose ends that count, while still leaving things open-ended enough for future stories set in this universe."
"I thoroughly enjoyed this book. I couldn't put it down and from the very first page, I felt like I had never left Roen and Tao for a minute. This is one of my favourite series of recent years, providing a nice blend of science fiction, spy thriller and comedy that I have yet to find anywhere else."
– Fantasy Faction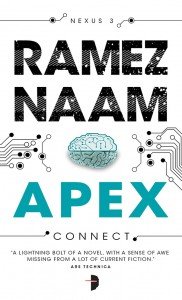 The second title to appear on the list is Apex, the third title in Ramez Naam's Nexus trilogy:
"Apex marks the end of a trilogy of gripping books that explore the terrifying possibilities of technology in the near future. The mind-sharing technology Naam introduced in the first two books is amplified to a horrific global scale in the finale, and the Nexus technology is adopted and abused by governments, hackers, businesses, and even Buddhist monks. A truly chilling conclusion to a great series."
Apex has also been spotted on the GoodReads Choice Awards' 25 Best Science Fiction list, as voted for by readers. We're so proud!
Here's some more praise, lavished on Apex by fans:
"From next-generation protest techniques to warfare in the age of autonomous weaponry to the nature of human rights in a world of transhumanism, Apex has ideas, eyeball kicks, and rollercoaster thrills to spare."
– Cory Doctorow, BoingBoing
"The best books are often the hardest to review, because it's at those times that I just want to throw my usual attempts at objectivity out the window and reduce my review to, "Holy crap, you guys, you all need to be reading this series right now!" That's Nexus, Crux, and Apex in a nutshell. It's wonderfully intelligent, it speculates on amazing advances in technology that we're already seeing the early stages of in the real world, and it's all written by a master of the craft. It's a phenomenal exploration of humanity, one that could pave the way for a new future in sci-fi. 5/5"
– Bibliotropic
"I think the Nexus trilogy will become a classic in much the same way the Dune series and other great science fiction series have before it. It's the kind of series you carry with you after you've read the last page and find you have to discuss with other readers because its implications are too profound to keep to yourself. Do I recommend it – if you're a sci-fi fan, or want an edge-of-your-seat smart-as-hell ride, definitely!"
– Popcorn Reads
We couldn't be happier at the news and have agreed that Buzzfeed definitely has the best taste in books. So thanks, Buzzfeed, you're definitely at the top of our Christmas card list.
If you want to check out the other titles to make the list, just click here.