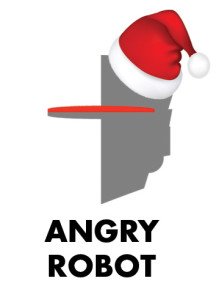 Ho, ho, ho! Merry (almost) Christmas!
Although for eleven months of the year we are angry, seething robots, threatening to overthrow earth's puny leaders and instil some cybernetic terror from our orbital death platform, we're actually pretty merry when it comes to the holidays.
I mean, look at Angstrom's excellent Santa hat. Nothing screams 'Joyeux Noël' like a robot wearing a jolly hat, eh?
Do you know what else gets us in the holiday mood? Offering you guys something a little bit different. Which is why we've teamed up with the B&N Sci-Fi &Fantasy blog to offer you a little slice of holiday joy each (work) day, in the run-up to Christmas.
From today (Dec 3rd) until 18th December we're going to be bringing you a short seasonal story each day from some of our top writers. Even more exciting, we're going to be offering a discount on selected Angry Robot titles by the authors themselves over at Nook. There'll also be a competition each day over on Twitter, to win the day's author's book in physical form.
Phew. Now don't you dare say we're too angry for seasonal cheer!
Below is our line up of yuletide elves, who have all been diligently scribbling to bring you some festive flash fic. Following the grid from top left, click each author to be taken through to their festive story, like your own little Christmas advent. The links will be updated each day.
Here are the books on offer for just $2.99 throughout the period:
The Ark 
Graft (pre-order)
The Blasted Lands (Bonus: Seven Forges is $2.99 in a separate Nook Deal)
Steal the Sky (pre-order)
Windswept
Peacemaker
Drake (pre-order)
The Buried Life
Flex
United States of Japan (pre-order)
The Bullet-Catcher's Daughter
If Then