Do you own a Nook? Then you, dear readers are in for a treat!
From now until 30 November, not one, not two but THREE of our ebooks are discounted over at Barnes & Noble, at the low, low price of $2.99. Take a look at the books available below and simply click on the title to be taken through to the offer.
Sometimes, one must accomplish the impossible.
Beneath the mountain, the king's reign of tyranny is absolute; the one troll with the capacity to challenge him is imprisoned for treason. Cécile has escaped the darkness of Trollus, but she learns all too quickly that she is not beyond the reach of the king's power. Or his manipulation.
Recovered from her injuries, she now lives with her mother in Trianon and graces the opera stage every night. But by day she searches for the witch who has eluded the trolls for five hundred years. Whether she succeeds or fails, the costs to those she cares about will be high.
To find Anushka, she must delve into magic that is both dark and deadly. But the witch is a clever creature. And Cécile might not just be the hunter. She might also be the hunted…
"I loved this book so much. There were so many different elements at play that came together to make an excited, riveting, infuriating and suspenseful tale that kept me mesmerized from cover to cover. Danielle did a wonderful job of making sure all of the pieces to this story had a purpose and that they all came together seamlessly in the end. The mystery, danger, suspense, political intrigue, family ties, friendship, treachery, betrayal, power and love. It all was just so good!"
– A-Novel-Ty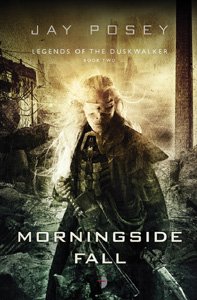 Morningside Fall
, by 
Jay Posey
The lone gunman Three is gone, and Wren is the new governor of the devastated settlement of Morningside, but there is turmoil in the city. When his life is put in danger, Wren is forced to flee Morningside until he and his retinue can determine who can be trusted.
They arrive at the border outpost, Ninestory, only to find it has been infested with Weir in greater numbers than anyone has ever seen. These lost, dangerous creatures are harbouring a terrible secret – one that will have consequences not just for Wren and his comrades, but for the future of what remains of the world.
 The overall atmosphere of
Morningside Fall
was one of tense, edge-of-your-seat terror. Posey knows how to convey suspense, and he put his characters in danger over and over again, which left my pulse pounding and my heart racing. This is science fiction, but like the best SF, it's also horror.
– Books, Bones & Buffy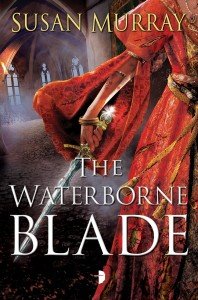 The Waterborne Blade
, by
Susan Murray
The citadel has long been the stronghold of Highkell. All that is about to change because the traitor, Vasic, is marching on the capital. Against her better judgement, Queen Alwenna allows herself to be spirited away by one of the Crown's most trusted servants, safe from the clutches of the throne's would-be usurper.
Fleeing across country, she quickly comes to learn that her pampered existence has ill-equipped her for survival away from the comforts of the court. Alwenna must toughen up, and fast, if she is even to make it to a place of safety. But she has an even loftier aim – for after dreaming of her husband's impending death, Alwenna knows she must turn around and head back to Highkell to save the land she loves, and the husband who adores her, or die in the attempt.
But Vasic the traitor is waiting. And this was all just as he planned.
"This is a wonderful thing, a sweeping fantasy which somehow manages to pull off the trick of being intimate and very human at the same time. It begins with a realm in peril, and then puts its shoulders back and strides confidently towards a horizon packed with magic and love and abandoned palaces and a huge and very real evil. Susan Murray has written a debut novel of great skill and depth, and I loved it."
–  Dave Hutchinson, author of Europe in Autumn