You might remember a book we released back in September, by the master of gory epic fantasy, Andy Remic. We loved the cover for The Dragon Engine, created by Lee Gibbons, so much so that we asked him to work his magic on the second book in the Blood Dragon Empire series. And work magic, he has.
Take a look at this absolutely stunning cover: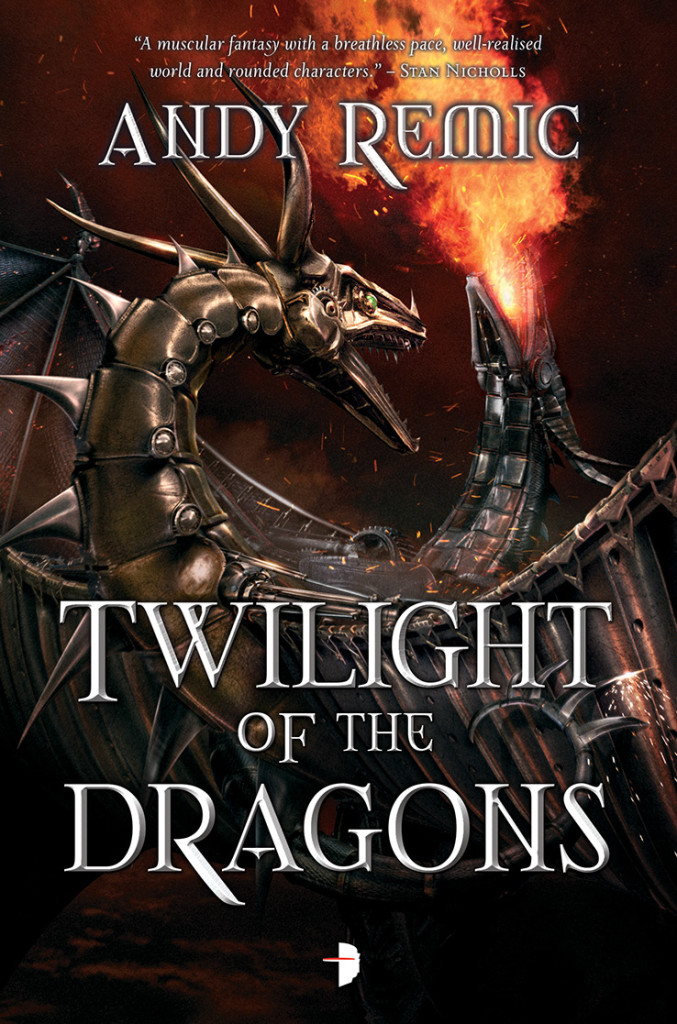 Twilight of the Dragons will be released 2 August (US/Can) and 4 August (UK/R.o.W).
Here's the synopsis:
During a recent dwarf civil-war deep under the Karamakkos Mountains, the magick-enslaved dragonlords have broken free from centuries of imprisonment and slaughtered tens of thousands throughout the Five Havens before exploding from the mountain and heading in fire and vengeance for the lands of Vagandrak.
Two once-noble war heroes of Vagandrak – Dakeroth and his wife Jonti Tal, an archer and scholar, the Axeman, the White Witch and a Kaalesh combat expert find themselves in a unique position: for they have discovered the ancient dragon city of Wyrmblood, and a thousand unhatched dragon eggs.
Dakeroth and his companions must work with their enemies, Skalg and the Church of Hate, in order to bring down the dragonlords and save the world of men and dwarves. But there is no bartering with these ancient dragons; for they seek to hatch their eggs and rebuild the cruel Wyrmblood Empire of legend.
Here's what the critics had to say about The Dragon Engine, the first in the series:
"The author brings his A-grade storytelling skills to bear and unveils a pacy, action driven plot that is easy to get completely engrossed in. I could wax lyrical about Andy Remic's writing all day. It's not difficult to waffle appreciatively about an author whose work you really enjoy. If you've never experienced Mr Remic's work before, and you aren't adverse to the odd beheading or two twelve, then I urge you to give this book a try. Hell, let's be honest here, I'd say that for any book he's written."
– The Eloquent Page
"The story is wonderfully vibrant and detailed, even to the point that during some battle scenes I felt compelled to wince and look away."
– Two Nerds Talking
"This book dug its claws into me on so many levels it is hard to isolate what exactly made it a 4 star novel. Perhaps it was the complex but flawed heroes. Maybe the familiar Hobbit-esque quest morphing into a grimdark nightmare did it. The wonderfully paced story and realistic action definitely entertained. No matter the ingredients though, Remic casted a spell with this one, and if you haven't experienced his take on grimdark, you really should give this one a try."
– Bookwraiths
"Remic is clearly a writer right at the top of his game."
– BrainFluff