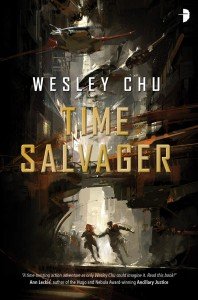 Time Siege, the second in Wesley Chu's Time Salvager series, is set to hit all good bookstores in July 2016. However in an exciting turn of events, we're able to share the UK cover with you today! First, though, a look at the synopsis:
Having been haunted by the past and enslaved by the present, James Griffin-Mars is taking control of the future.
Earth is a toxic, sparsely inhabited wasteland – the perfect hiding place for a fugitive ex-chronman to hide from the authorities.
James has allies, scientists he rescued from previous centuries: Elise Kim, who believes she can renew Earth, given time; Grace Priestly, the venerated inventor of time travel herself; Levin, James's mentor and former pursuer, now disgraced; and the Elfreth, a population of downtrodden humans who want desperately to believe that James and his friends will heal their ailing home world.
James also has enemies. They include the full military might of benighted solar system ruled by corporate greed and a desperate fear of what James will do next. At the forefront of their efforts to stop him is Kuo, the ruthless security head, who wants James's head on a pike and will stop at nothing to obtain it.
The amazing illustration was created by Richard Anderson who also did a wonderful job with the artwork for Time Salvager (as you can see above, right). As we're sure you'll agree, the cover is just as impressive for this next instalment. We can't wait to hear your thoughts. So, without further ado, here it is!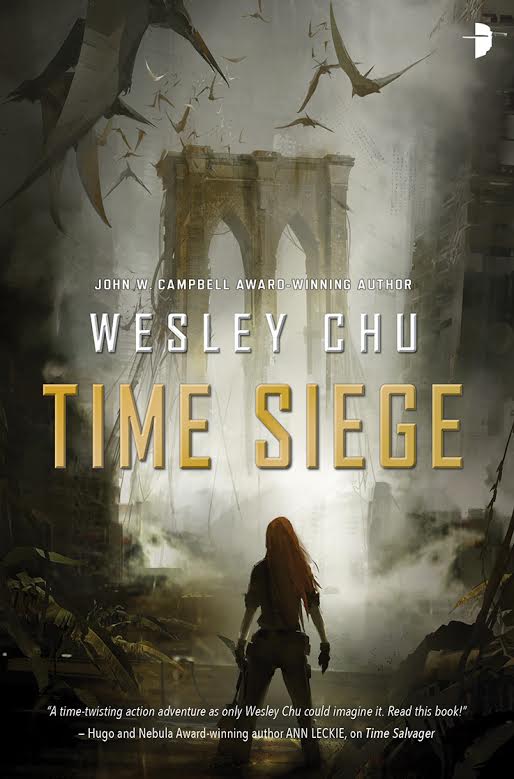 Here's what the critics have to say about Time Salvager, the first novel in the series:
"Time twisting action-adventure as only Wesley Chu could imagine it. I enjoyed it a lot. Read this book!"
– Ann Leckie, Author of the Hugo and Nebula Award-winning Ancillary Justice
"Chu creates a fascinating world, strange and familiar, infused with humor, sorrow, courage, greed, and sacrifice. This page-turner is a riveting, gratifying read."
– Publisher's Weekly, starred review
"From its early pages, Time Salvager establishes itself as an utterly captivating time-travel adventure. To put it simply, Chu's worldbuilding is extraordinary. There's a grim believability in his vision of a decaying Earth, and the comm/atmos/exo bands make for vivid, easy-to-imagine tech. Plus, Chu neatly (and humorously) avoids getting bogged down in explanations of the physics of time travel. But even beyond all this, Chu explores the emotional truth of the pain and regret that haunts James as he gives the past — and its people — up for lost."
– Regina Small of RT Book Reviews
"A powerful and compelling search of the past for redemption in the present, by turns thrilling and sweet and gut-wrenching."
– Kevin Hearne, New York Times best selling author of Iron Druid
Both Time Salvager and Time Siege are available from us in the UK, and Macmillan if you're in the US.