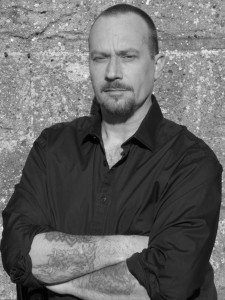 In January Peter McLean's debut novel, Drake is set to hit all good bookstores. Think Ben Aaronovitch's Rivers of London, but with a healthy dose of Lock, Stock and Two Smoking Barrels and the devil himself thrown in for good measure.
Here's the synopsis:
Hitman Don Drake owes a gambling debt to a demon. Forced to carry out one more assassination to clear his debt, Don unwittingly kills an innocent child and brings the Furies of Greek myth down upon himself.
Rescued by an almost-fallen angel called Trixie, Don and his magical accomplice The Burned Man, an imprisoned archdemon, are forced to deal with Lucifer himself whilst battling a powerful evil magician.
Now Don must foil Lucifer's plan to complete Trixie's fall and save her soul whilst preventing the Burned Man from breaking free from captivity and wreaking havoc on the entire world.
The words might sound good but as we all know it's important to judge a book by its cover, and luckily for us Raid71 was happy to do wondrous things for the cover of Drake. The full image can be seen over at Fantasy Faction, just click on the teaser below.