That's right, folks! Apex, the third and final instalment of the Nexus series by Ramex Naam, has been nominated for the semifinal round of the GoodReads Choice Awards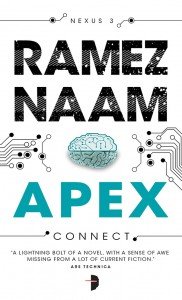 for Best Science Fiction. He's keeping company with the likes of Margaret Atwood, John Scalzi, Chuck Wendig, Ernest Cline and Pierce Brown, which shows you just how impressive he is.
What are the Awards, you may ask? Since 2009, GoodReads have been asking readers to vote for their best books of the year, covering a whole range of categories – everything from picture books to non-fiction to sci-fi. Here's how they select their nominees:
'We analyze statistics from the millions of books added, rated, and reviewed on Goodreads to nominate 15 books in each category. Opening round official nominees must have an average rating of 3.50 or higher.'
Of course we here at Angry Robot love Apex, but here's what other readers had to say:
"As with the first two volumes, Apex is a fat book that reads like a skinny one, racing through its well-turned plot to a conclusion that ties together every loose thread of every one of the trilogy's cast of thousands. From next-generation protest techniques to warfare in the age of autonomous weaponry to the nature of human rights in a world of transhumanism, Apex has ideas, eyeball kicks, and rollercoaster thrills to spare."
– Cory Doctorow, BoingBoing
"The best books are often the hardest to review, because it's at those times that I just want to throw my usual attempts at objectivity out the window and reduce my review to, "Holy crap, you guys, you all need to be reading this series right now!" That's Nexus, Crux, and Apex in a nutshell. It's wonderfully intelligent, it speculates on amazing advances in technology that we're already seeing the early stages of in the real world, and it's all written by a master of the craft. It's a phenomenal exploration of humanity, one that could pave the way for a new future in sci-fi. 5/5"
– Bibliotropic
"An excellent trans-humanist novel, raising questions of humanity and morality, and maybe the next evolution of humankind."
– Libromancer's Apprentice
"I think the Nexus trilogy will become a classic in much the same way the Dune series and other great science fiction series have before it. It's the kind of series you carry with you after you've read the last page and find you have to discuss with other readers because its implications are too profound to keep to yourself. Do I recommend it – if you're a sci-fi fan, or want an edge-of-your-seat smart-as-hell ride, definitely!"
– Popcorn Reads
We're thrilled that Apex has reached the semifinals, but of course it's not yet the end. So, robot supporters, we'd love if you could get behind this fantastic book by voting here. (You don't have to, of course.*)
And if you haven't yet started the series, what are you waiting for? You can find out more about Nexus here.
*But we will be watching…